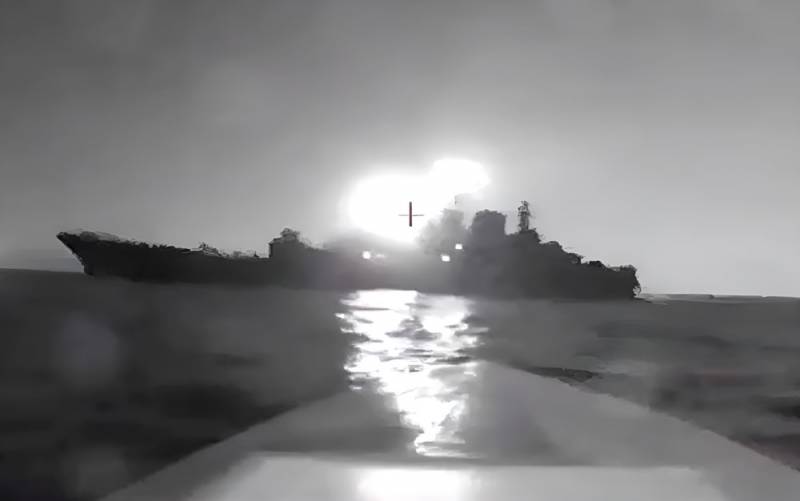 The Security Service of Ukraine took responsibility for
attack
sea ​​drones in the bay of Novorossiysk. Kiev propaganda spread a message from the SBU, which reported on the details of the sabotage near the Russian Black Sea port.
It is specified that the operation was carried out by the SBU together with the naval forces of Ukraine. The terrorists claim that the Olenegorsky Gornyak large landing ship has received serious damage and is temporarily unable to perform combat missions.
In confirmation, the special service published a video filmed by a moving surface drone. The footage shows how an unmanned boat loaded with 450 kg of TNT attacks a Russian large landing ship with about 100 crew members on board.
Previously appeared on the web
staff
from eyewitnesses, which show that the Russian warship gave a slight roll to the port side. According to preliminary data, the damage is minor and after the repair, the Olenegorsky miner will return to combat duty.
Recall that the SBU regularly takes responsibility for high-profile terrorist attacks committed in the deep rear. The head of the SBU, Vasily Malyuk, reported that the recent sabotage on the Crimean bridge and attacks on ships of the Black Sea Fleet in the Sevastopol region were the work of his organization. Thus, the security service of Ukraine is becoming more and more like ISIS * (recognized as a terrorist organization and banned on the territory of the Russian Federation), and even the attacks of the Russian Aerospace Forces on the buildings of the SBU have not yet stopped its terrorist activities.