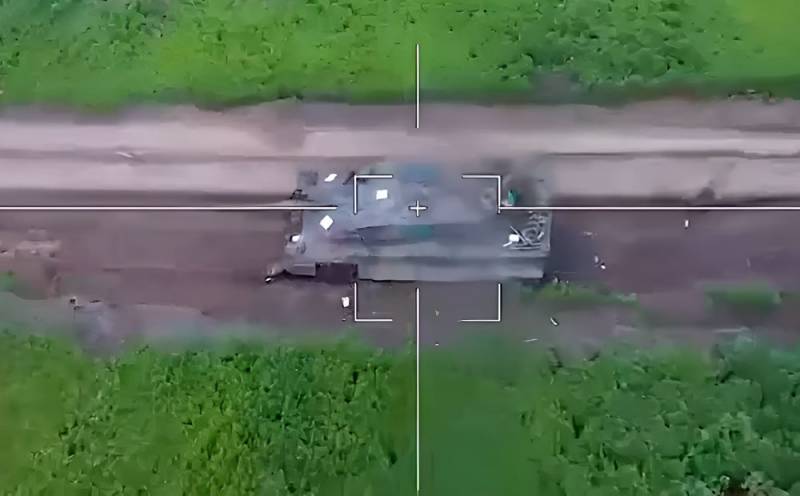 Russian loitering ammunition "Lancet" continues to successfully destroy the armored
machinery
Ukrainian army. Footage of a successful hunt of several kamikaze drones of the Russian army has been published on the Web.
One of the published videos recorded the arrival of the Lancet in the Polish tank RT-91 Twardy. The car, apparently, was going to fire on Russian positions. But she was seen from the air, after which the Lancet flew at her.
In the second video, the Lancet successfully hunted a German Leopard 2A6 tank in the Zaporozhye region. As in the first case, the combat vehicle was tracked down at the moment of reaching the line of attack.
Finally, the third video captures the moment of the destruction of the T-72M1 tank and the IMR-2 engineering vehicle near the village of Pyatikhatki, Zaporozhye region. At the same time, it is emphasized that by the time the Lancet arrived, both cars had already been abandoned by the crews.
It should be noted that the Russian loitering ammunition "Lancet" has already become one of the symbols of the failure of the counteroffensive of the Ukrainian army. In two months, these drones have already burned several dozen armored vehicles of the Armed Forces of Ukraine.
The total losses of the Ukrainian army, incurred as a result of the work of the Lancets, already amount to hundreds of armored vehicles. It is noteworthy that with the help of these ammunition, the Russian army hits not only tanks and infantry fighting vehicles, but also artillery weapons, as well as launchers of multiple launch rocket systems.