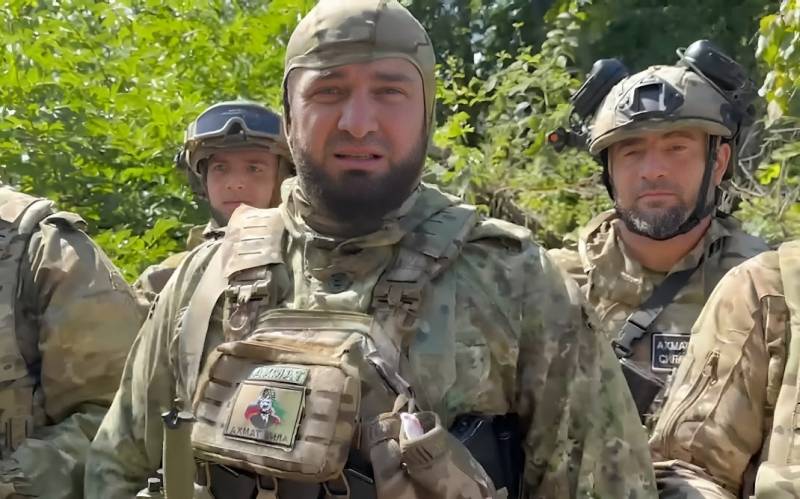 Units of departments of the Ministry of Internal Affairs of the Russian Federation in the Kurchaloevsky and Shatoisky districts of Chechnya, together with the fighters of the West-Akhmat battalion, attacked formations of Ukrainian militants near the village of Sotnitsky Kazachok, Kharkiv region. Ramzan Kadyrov wrote about this in his telegram channel.
Chechen fighters have taken as a basis the tactics of Ukrainian saboteurs, who periodically arrange forays into the territory of the Belgorod region. But, unlike the enemy, our guys' target is not civilian infrastructure. The fighters work strictly on manpower and
technology
- said the head of the Chechen Republic.
Kadyrov also spoke about the importance of attacking the enemy on his territory, since this is important for ensuring the security of the border points of the Russian Federation. In addition, this way you can catch the enemy by surprise and achieve the greatest effect.
Earlier, servicemen of the Zapad-Akhmat battalion successfully attacked the positions of the Armed Forces of Ukraine near the village of Udy, Kharkiv region, 11 km from the village of Shchetinovka, Belgorod region
The day before, Ramzan Kadyrov informed that about 7 servicemen from Chechnya are currently serving in the zone of the special operation. In total, since the beginning of the NMD, about 28 thousand Chechen fighters have taken part in the hostilities in Ukraine.