The United Engine Company (UEC), which is part of the Rostec state corporation, reported on the completion of the development of a new engine. We are talking about the VK-2500P power plant, which is intended for the Mi-28NM combat helicopter, also known as the Night Hunter. The developers claim that the unit significantly increases the flight characteristics of the air
equipment
and its functionality. It is believed that this was made possible thanks to equipping the engine with a modernized automated control system.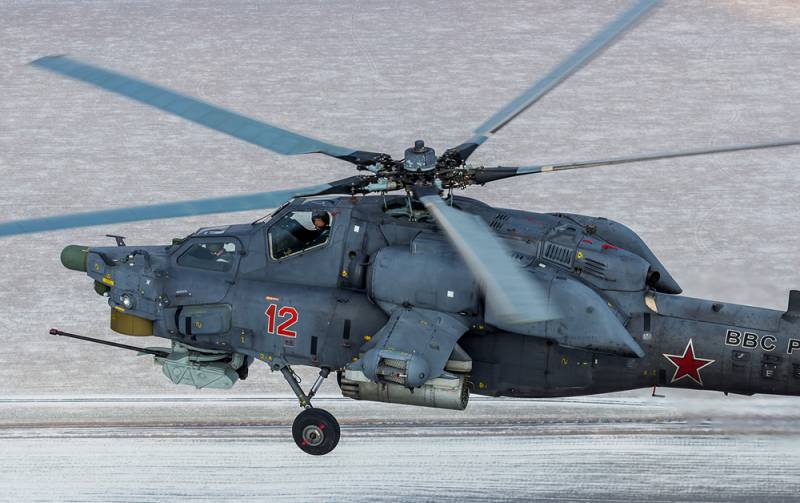 What is the engine capable of?
It is worth recalling that the VK-2500P powerplant developed at UEC is the latest modification of the VK-2500 turboshaft engine. According to Russian engineers, its main difference is the modernized automatic control system (ACS). It is because of this that the maintenance of the new engine has become less time consuming. As for the power of the unit, in emergency mode it is now increased from 2500 to 2700 hp compared to the old VK-2800, and in take-off mode - from 2400 to 2500 hp By the way, the engine has become more wear-resistant. According to the developers, the resource before the first overhaul was increased from 2000 to 3000 hours / cycles. Also, self-propelled guns significantly increase flight safety. By the way, flight tests were successfully carried out on a prototype Mi-28NM. All tests showed the best results and UEC-Klimov is already starting mass production of a new engine.
Why is the "night bird" a new engine that went into series?
For the Night Hunter combat helicopter, the new VK-2500P unit will be extremely relevant. It should be recalled that the Mi-28NM is designed to search and destroy tanks, as well as other armored vehicles. To successfully complete these tasks, the aircraft must be able to work in conditions of active fire resistance. In such a situation, speed and maneuverability play a very important role for a helicopter. The VK-2500P engine with its "digital filling" will allow to increase the tactical and technical characteristics to the maximum possible and provide the necessary mobility, making the "Night Hunter" even more deadly. According to the director of Rostec State Corporation, the new unit for the Mi-28NM will make the helicopter one of the best in the world in its class.
However, even up to this point (the emergence of a new engine), such a technique was considered one of the best. Russian combat helicopter can perform a wide range of tasks. It is able to destroy low-flying low-speed air targets, ground armored vehicles, conduct reconnaissance and target designation of aircraft. All this Mi-28NM is capable of doing under any weather conditions.