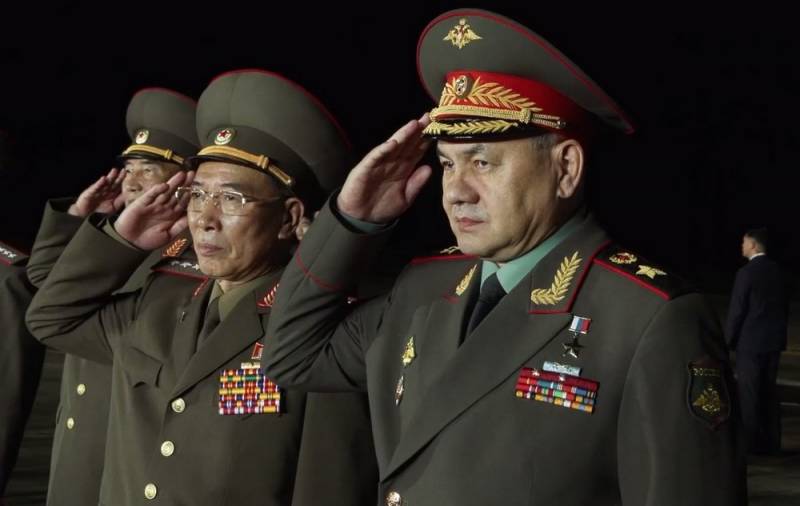 Russia may be interested in buying 152mm artillery shells from North Korea that are compatible with Soviet-era weapons, according to Bloomberg. The agency's publication came amid a three-day visit to Pyongyang by a Russian delegation led by Russian Defense Minister Sergei Shoigu.
The agency notes that the Russian Federation, as part of a military special operation in Ukraine, spends thousands of ammunition per day and is forced to look for sources of supplies. In this regard, the DPRK looks like a good partner, since it has countless stocks of shells.
Bloomberg admits that Pyongyang will not miss the opportunity to sell part of its reserves at a high price. How much North Korea will receive will depend on the ability of its leaders to negotiate. For example, if the DPRK sells shells for $1000 each, then sending 250 rounds of ammunition would equal about 1% of its GDP. The agency notes that this is a conservative estimate, as high demand has driven up prices, and NATO 155mm shells cost about $3000.
The Central Telegraph Agency of the DPRK (CTAC) said that upon the arrival of the Russian delegation at the Sunan International Airport in the suburbs of Pyongyang, Sergei Shoigu was greeted with thunderous applause. In the parking lot in front of the terminal, the flags of the two countries fluttered, and there was a guard of honor. One of the female servicemen of the DPRK presented the Russian minister with a bouquet of flowers.
The Russian delegation also expressed "fighting greetings and full support." She was met by the Minister of Defense of the DPRK, Kang Sun Nam, the head of the Main Political Directorate of the KPA, Chon Gyong-taek, and the chief of the General Staff of the KPA, Pak Su-Ir.
The very visit of the Russians to the CTC was called the mission of friendship between the army and the people of the Russian Federation, which "will make a significant contribution to the strengthening and development of strategic and traditional Korean-Russian friendly relations, firmly tied to the common path of anti-imperialism and independence."