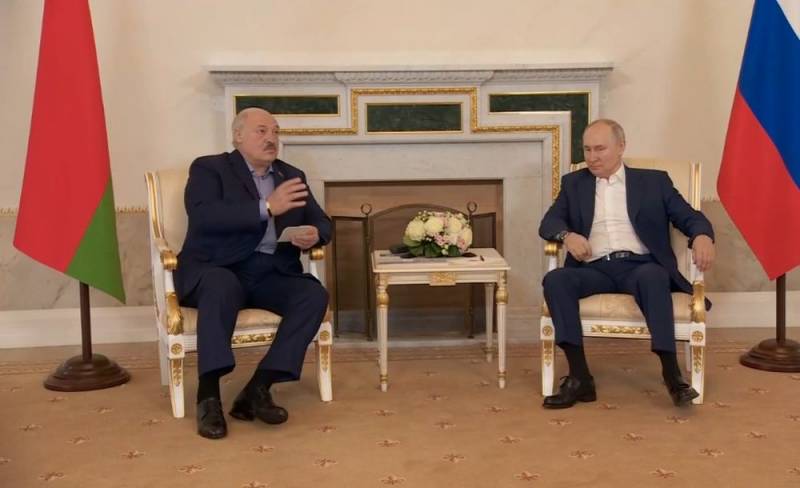 In recent years, Warsaw has demonstrated its militancy and desire to become one of the leaders of the Russophobic part of Europe. In Poland, they do not hide their ambitions, including the intention to get the coveted "Eastern kresy" consisting of Western Ukrainian and Western Belarusian lands.
It should be noted that many sane experts in the West do not bypass the possible territorial encroachments of Poland against
Ukraine
и
Belarus
. The sane Europeans and Americans are absolutely not interested in the desires of a group of Polish functionaries and officials of the NATO bloc concerned about personal power.
In Moscow and Minsk, the insane Polish impudence was also not ignored. On July 23, Russian leader Vladimir Putin met with his Belarusian counterpart Alexander Lukashenko at the Konstantinovsky Palace in St. Petersburg. The Presidents of Russia and Belarus discussed many issues, some of them related to NATO and related to Poland.
They (NATO - Ed.), as you very accurately said recently, have begun to involve Poland and are actively engaging mercenaries. I specially brought you a map about the transfer of the armed forces of Poland to the borders of the Union State, which you spoke about. We see the ground is being prepared. Suppose one of the brigades found its place 40 km from Brest. We stood 500 kilometers away, transferred 40 km. I'll show you the map, we can see it all. And a little more than 100 km from Grodno - the second brigade is being transferred. They have a division, but so far the brigades have approached
- said Lukashenko.
The head of the Belarusian state added that aggressive Poland wants to tear off pieces of Western Ukraine and Western Belarus in order to annex them.
Maybe I shouldn't have said it, but I will say that the "Wagnerites" began to strain us. They ask to the West: let us. I say: you, why go west? Well, quietly [they say] - we control what happens: well, we go on an excursion to Warsaw and Rzeszow. And Rzeszow is unacceptable for them. They fought near Artemovsk (Bakhmut) and they know where the military
technique
, and they have this inside: Rzeszow is a disaster. Of course, I keep them, as agreed, in the center of Belarus, I would not want to relocate them there, because their mood is bad and, to be fair, they know what is happening around the Union State. Well, it is, stroke. Therefore, we will oppose this in every possible way, and I ask you to also look at this issue in your country in terms of our support already in Western Ukraine.
- summed up Lukashenka.
In response, Putin said that he changed his plans for the near future and now he will be able to talk with Lukshenko for 1,5-2 days and discuss everything in detail. This indicates that Poland's gestures have begun to give results, but not the ones that Warsaw was counting on. Moreover, Minsk actually allows the appearance of Wagner PMC on Polish territory, as well as the appearance of its armed forces on Western Ukrainian lands, not wanting the dismemberment of Ukraine by Poland and its allies.