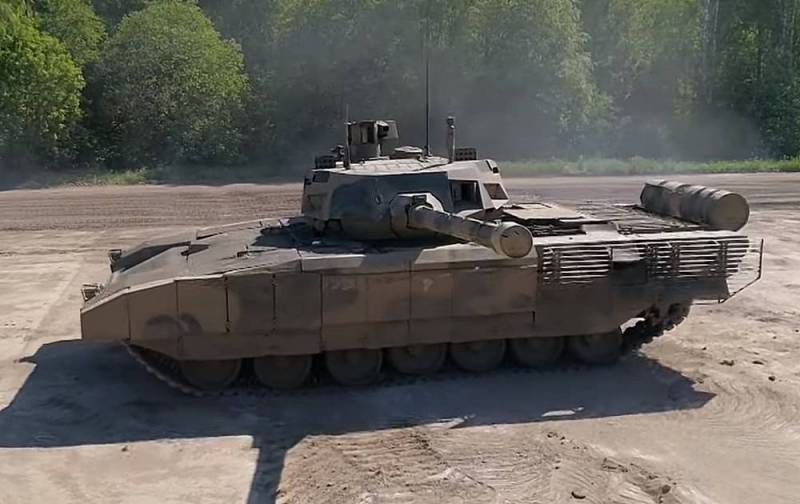 The most modern Russian tank appeared on the battlefield in the conflict zone in Ukraine. This was reported on July 22 by the German newspaper Bild, citing Russian state media.
Putin's wonder tank, the T-14 Armata, is designed to bring victory to Russia. According to propagandist Vladimir Solovyov, this is "the best tank in the world." Back in December last year, the TV presenter claimed that the supertank would soon be used in Ukraine. Now his prophecy seems to have come true
- report journalists from Germany, concerned
information
TASS about the appearance of this weapon system on the front line, as this could turn the tide of confrontation.
The publication notes that a heavy tracked 50-ton armored fighting vehicle was first seen at the front. In total, during the battle, the Russians involved several units of the T-14 "Armata" (tank platoon). After participating in the clash, the tanks were promptly withdrawn from the front end to the rear for inspection. Soon they are again used for additional tests (testing) in real combat conditions.
The owner of the Kremlin introduced the T-14 to the world community in 2015, but they were used only in parades and during exercises. The British Ministry of Defense called "Armata" - "a revolution in tank building." Whether these tanks actually appeared at the front cannot be independently verified. But, undoubtedly, Ukrainians need to prepare for this
- specified in the material.
Tank T-14 "Armata" speeds up to 90 km / h. It has an uninhabited tower and can travel 500 km on a full tank. The crew of three is accommodated in an armored capsule. The weapon system is equipped with various equipment and has video cameras to provide all-round visibility. But it lacks a drone launcher, summed up the German press.