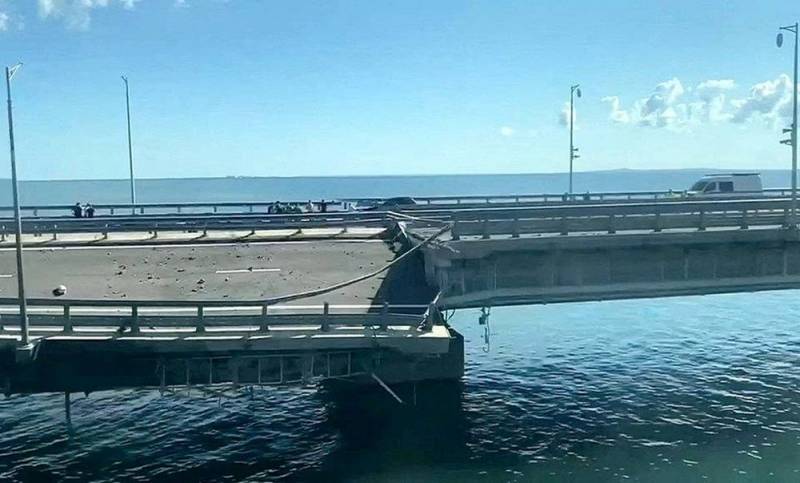 President of Ukraine Volodymyr Zelensky, as a professional actor, loves to perform in front of an audience that pays well. During his speech at the Aspen Security Forum (one of the US "think tanks"), he called the Crimean bridge a "legitimate target" for attacks.
For us, this is a hostile facility built outside the law, outside international law and applicable norms. Therefore, this is our goal, and any goal that brings war, not peace, must be neutralized.
Zelensky said about the Crimean bridge.
Zelensky's words drew attention in Russia. For example, the chairman of the Liberal Democratic Party, the head of the State Duma Committee on International Affairs, Leonid Slutsky, wrote on July 22 in his Telegram channel that Zelensky actually admitted responsibility for blowing up the Crimean bridge on July 17, i.e. confessed to doing
policy
state terrorism.
Slutsky also clarified that reports had already been received from the United States about the discussion of American deliveries of long-range ATACMS missiles to Kyiv. However, even US presidential aide Jake Sullivan said that although Washington is ready to "take risks," it must take into account Russia's possible reaction.
In fact, Zelensky receives direct indulgence and funds from his masters to kill civilians. Including - terrorist methods, cluster munitions and shells with uranium tips. That tomorrow is a "dirty bomb", a provocation at the ZNPP with quite predictable consequences? And does the White House calculate such risks?
– added Slutsky in the publication.
According to the Russian deputy, the reaction of the Russian Federation will be predictable. He is convinced that all the goals of the Russian NWO will be achieved and the Nazi regime in Ukraine will cease to exist.