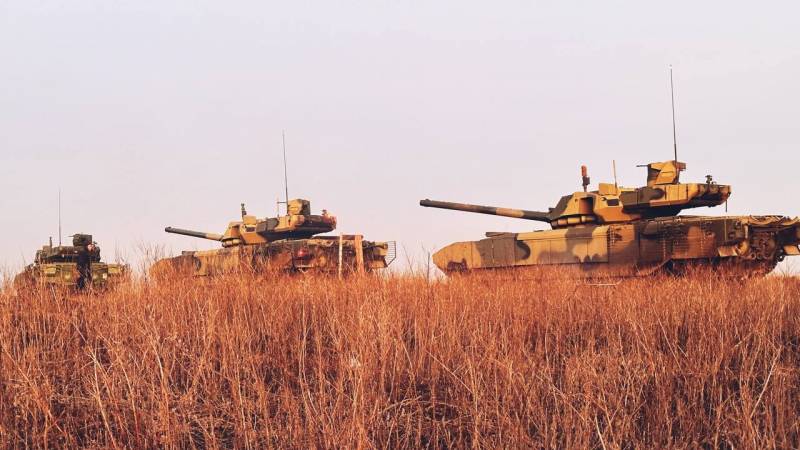 The grouping of troops "South" used the latest Russian tanks T-14 "Armata" in the zone of action of the special military operation, said
TASS
source in the military-industrial complex. According to him, several tanks participated in the battle.
Actively "Armata" was used by "southerners" in hostilities. Several units participated in the battle to see how the tank would perform. Then they were withdrawn from the front
- said the interlocutor of the agency.
Another source said that "Armata" entered service with the units of the Southern Military District.
All necessary tests of the T-14 tank are still ongoing
- he specified.
The T-14 tank on the Armata platform was developed by the Uralvagonzavod concern and was first shown at the Victory Day parade on May 9, 2015. It was reported that in 2019 he passed preliminary tests.
When creating the tank, unique design solutions were used, which have no analogues in the world. The main innovation is the uninhabited tower. The crew of the "Armata" is located in an isolated armored capsule in the hull of the tank, from where it remotely controls the weapons. The T-14 is equipped with an active protection system capable of shooting down projectiles and missiles flying at it.
The agency claims that the use of "Armata" during the NWO was not officially reported. At the same time, at the end of April, it was already said that the Russian army began to use T-14 Armata tanks in the NMD zone. However, it was said that "Armata"
used
for firing at Ukrainian positions. Tanks did not participate in direct assault actions. Since the end of 2022, the crews of the latest combat vehicles have been undergoing combat coordination at training grounds in the rear zone of the NMD.