Ukrainian armored boats, which, according to Poroshenko, were supposed to be a "thunderstorm" for the Russian Black Sea Fleet, surrendered without a single shot and are now peacefully standing near one of the berths in Kerch.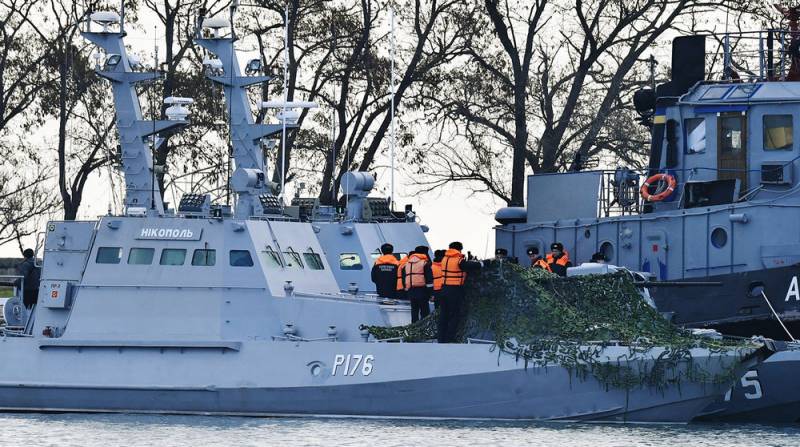 The necessary help was provided to the detained violators, as well as a criminal case was opened on the fact of violation of the state border of the Russian Federation.
A little later, the Deputy Permanent Representative of the Russian Federation to the UN said that on one of the Ukrainian ships detained in the Kerch Strait there were two employees of the Security Service of Ukraine. One can only guess about the purpose of their stay on the ship.
The Russian international television channel RT uploaded a video of one of the stringers of the Ruptly agency, which shows the detained ships of the Ukrainian Navy - the Berdyansk and Nikopol armored boats, as well as the Yana Kapu tugboat.
The editors consider it necessary to clarify the origin of the name of the tug of the Ukrainian Navy.
The tugboat Yany Kapu is named after a city that exists only in the inflamed brain of Ukrainian deputies - in 2016, the Verkhovna Rada of Ukraine renamed Krasnoperekopsk (Crimea, Russia) to Yany Kapu. The decision of the legislators should enter into force after the "return of Crimea to the jurisdiction of Ukraine."
And let the reader not be surprised by such a decision of the Ukrainian deputies. In Ukraine, the "Crimean police" has been staffed for a long time, which, most likely, will also wait for the return of Crimea.
It remains to add that perhaps two Ukrainian boats and a tugboat, which are captured on video, will in future become exhibits of Russian museums devoted to marine subjects.