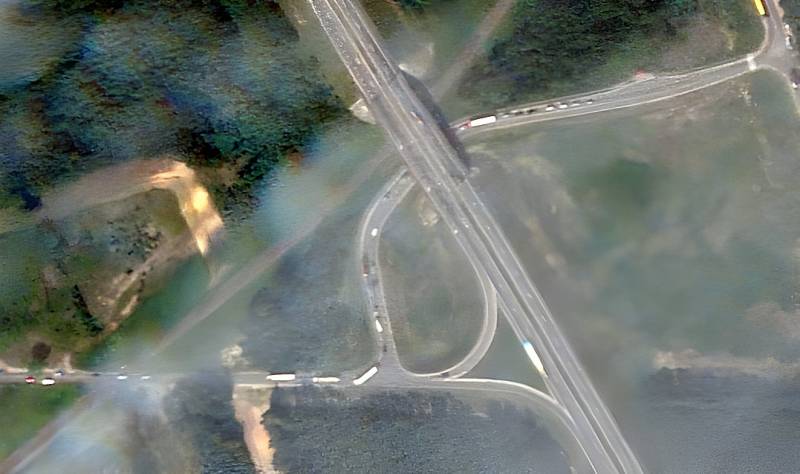 Another convoy of PMC "Wagner" arrived in the vicinity of the town of Osipovichi, Mogilev region of Belarus, the day before. It is emphasized that pickups, tractors transporting construction equipment were seen in it.
machinery
as well as passenger cars.
Meanwhile, Ukrainian sources, citing satellite images of The New York Times, report that more than 100 units of Wagner PMC equipment have arrived at the camp near Osipovichi. At the same time, it is noted that this is not the last column of the "orchestra" that will be relocated to Belarus.
On the eve it became known that PMC "Wagner" closes its main Russian base, located in the village of Molkino, Krasnodar Territory. There was a ceremony of removing the flags of the Russian Federation and PMC "Wagner".
We remove the flags of Russia and PMC "Wagner" in the village of Molkino, Krasnodar Territory. The base ceases to exist. PMC "Wagner" is leaving for new locations. The flag of the Russian Federation and the international flag of Wagner PMC will be transferred for storage to the city of Goryachiy Klyuch in the Wagner PMC memorial complex. Flag "Blood. Honor. Justice. Motherland. Courage" will be handed over to the head of the League for the Protection of the Interests of Veterans of Local Wars and Military Conflicts, Commander Podolsky Dmitry "Salem". The official flag of PMC "Wagner" will be transferred to the new training center
noted at the ceremony.
Recall that the relocation of Wagner PMC to Belarus became known after a failed attempt at a military mutiny on June 24 this year.