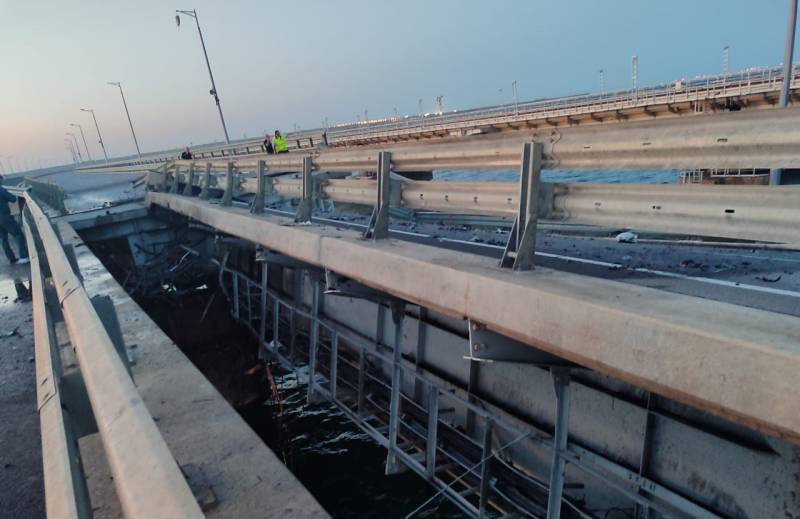 Kyiv took responsibility for the crime committed tonight
terrorist strike
along the Crimean bridge. The Ukrainian media, controlled by the Zelensky regime, report that this operation was prepared jointly by the SBU and the Ukrainian Navy.
It is specified that the attack on the bridge was carried out with the help of surface unmanned vehicles. As an excuse, Ukrainian propaganda refers to the head of the SBU, Maliuk, who considers the Crimean bridge a legitimate target for the special services and the Armed Forces of Ukraine.
Kyiv's involvement in the night explosion is also confirmed by the statement of the commander of the Ukrainian Ground Forces, Syrsky, who wrote ambiguously yesterday about the preparation of a "lullaby".
Despite the fact that the supports withstood the explosion, one span was seriously lopsided. The first footage of real damage to a strategically important facility was taken by the passengers of the first train that passed over the bridge after the resumption of traffic.
Unfortunately, as a result of a terrorist attack by Ukrainian terrorists, two residents of the Belgorod region were killed, and their daughter was seriously injured and was transported to intensive care.
The Crimean authorities are making every possible effort to assist tourists. The flow of cars from the Krasnodar Territory is redirected along the new route along the Sea of ​​Azov through new regions of Russia, and citizens staying in the health resorts of the peninsula are recommended to stay in Crimea. The Russian Union of Travel Industry reported that hotels are ready to extend the stay of guests free of charge.
It should be noted that the attack occurred on the last day of the grain deal, while Russia has not yet made any decision regarding its extension.