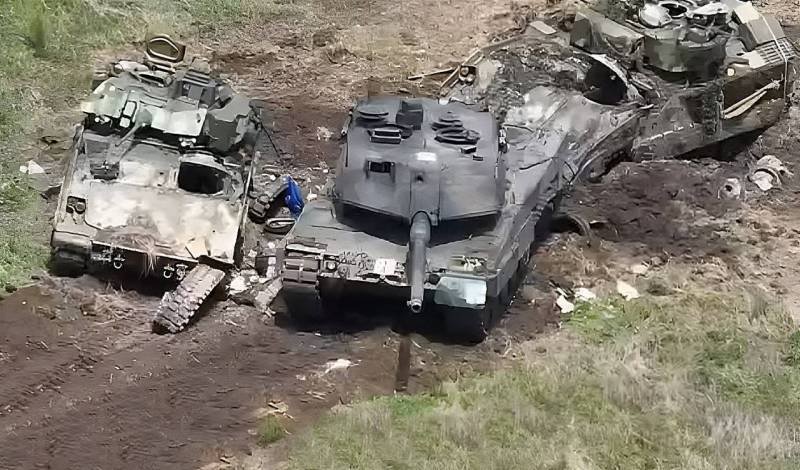 The Armed Forces of Ukraine launched a counteroffensive against the RF Armed Forces 6 weeks ago. At the same time, the Ukrainian army suffered the greatest losses in armored vehicles and other weapons at the very beginning. So, in the first 2 weeks of attacks and battles, Russia destroyed or damaged up to 20%
equipment
, which Ukraine sent to storm the positions of Russian troops. The New York Post writes about this, citing data from American, European and Ukrainian functionaries and the military.
Sources confirmed to the publication that among the losses there is also a certain amount of equipment from those impressive volumes of Western deliveries to Kyiv, which were carried out in the preparation of the counteroffensive by the Ukrainian command.
Tanks and armored personnel carriers that the Ukrainians counted on in the fight against the Russians
Western sources said.
Then the APU changed tactics. After that, according to the sources of the publication, in the following weeks, the level of loss of equipment of the Ukrainian forces decreased to approximately 10 percent, which is significantly different from previous figures. The fact that the counter-offensive of the Armed Forces of Ukraine slowed down, becoming less intense and fierce, also affected the reduction in equipment losses.
One of the Ukrainian servicemen, who introduced himself as Igor, told the publication that some time ago, the UAV of his unit recorded at the same time half a dozen western armored vehicles of the Armed Forces of Ukraine, which came under heavy artillery fire from the Russian Armed Forces.
They all burned down
he explained to NYT.
We remind you that, according to a number of Russian experts, the capabilities of the Ukrainian command will be enough to carry out a counteroffensive for 2-3 months.