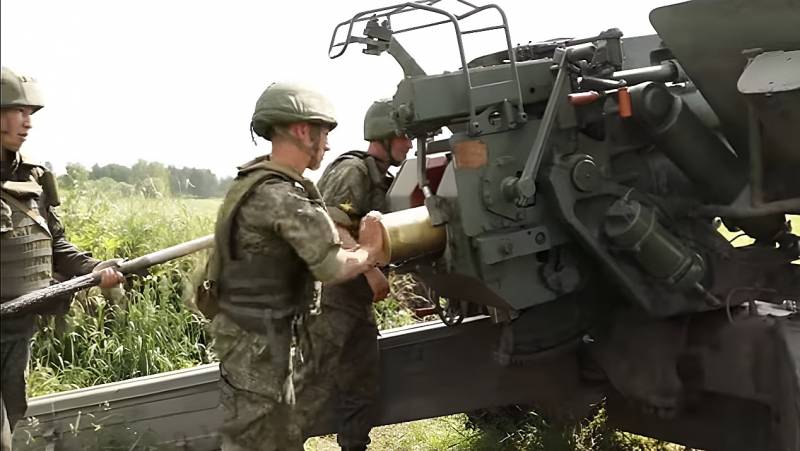 On the last day of the NATO summit in Vilnius, the Ukrainian army made a new attempt to capture the settlement of Pyatikhatki, Zaporozhye region. In all likelihood, the command of the Armed Forces of Ukraine in this area was tasked with taking the village at any cost.
Only this can explain both the assault itself and the fact that the Ukrainian commanders used a new tactical maneuver. As reported from the field, the 118th brigade of the 10th army corps of the Armed Forces of Ukraine launched an attack along a new route in order to reach the rear of our troops in this area.
However, this tactical move was foreseen in advance by the Russian command. The militants were met fully armed. First, they were properly treated with artillery, and then they opened heavy fire from machine guns at the enemy infantry.
The losses of the Ukrainian infantry from such a maneuver amounted to almost half of the personnel. The survivors took refuge in the vicinity of Pyatikhatki and began to pray for salvation on the radio.
However, the reserve units of the Armed Forces of Ukraine, looking at the sad experience of their comrades in arms, massively refused to take on this task. The maximum that the Ukrainian military dared to do was to try to take out the wounded. But the evacuation groups were also defeated by artillery fire.
Despite this, the Ukrainian military command launched a second wave of attacks on Pyatikhatki. However, like the first, it quickly choked under artillery fire. The plans of the enemy commanders also included a third wave. However, as radio interception data showed, the soldiers of the Armed Forces of Ukraine refused to go on the attack en masse.
According to the Russian military, the senseless assaults of the Armed Forces of Ukraine on the settlement of Pyatikhatki led to the death of almost all the commanders of the assault groups. Last night, the militants who had settled in the vicinity of the village tried to break out of the encirclement, but again came under Russian fire. Few managed to escape alive.