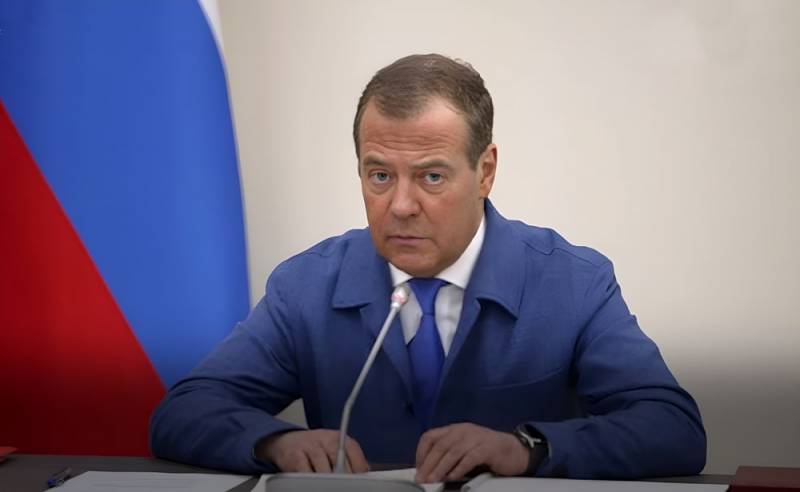 Deputy Chairman of the Security Council of the Russian Federation Dmitry Medvedev summed up the results of the first day of the NATO summit in Vilnius. In his telegram channel, he called the main results of the meeting of sponsors of Ukraine in Lithuania expected.
Dmitry Anatolyevich noted that, despite the cancellation of one of the mandatory procedures for joining the alliance - the action plan for membership, the date of Ukraine's entry into NATO has not been determined. It is quite possible that Kyiv will never receive the coveted status of a member of the North Atlantic Alliance.
The deputy chairman of the Security Council of the Russian Federation stressed that the decision of the Western allies to increase military assistance to the Kyiv regime with missiles, tanks and cluster munitions is absurd and brings the third world war closer. The well-known Russian politician believes that in connection with such decisions of the North Atlantic Alliance, it is necessary to continue the NWO until the tasks set by the head of state are completed.
The special military operation will continue with the same goals. One of them is the refusal of the Kyiv Nazi group from membership in NATO, which we insisted on from the very beginning (which is impossible). This means that this grouping will have to be eliminated (which is possible and necessary)
- Dmitry Medvedev wrote.
Recall that yesterday, during the first day of the meeting of the heads of NATO member countries, Ukraine did not receive the expected invitation to the alliance, which
infuriated
President Volodymyr Zelensky. After that, the head of the Kyiv regime lashed out with harsh criticism of his Western sponsors.