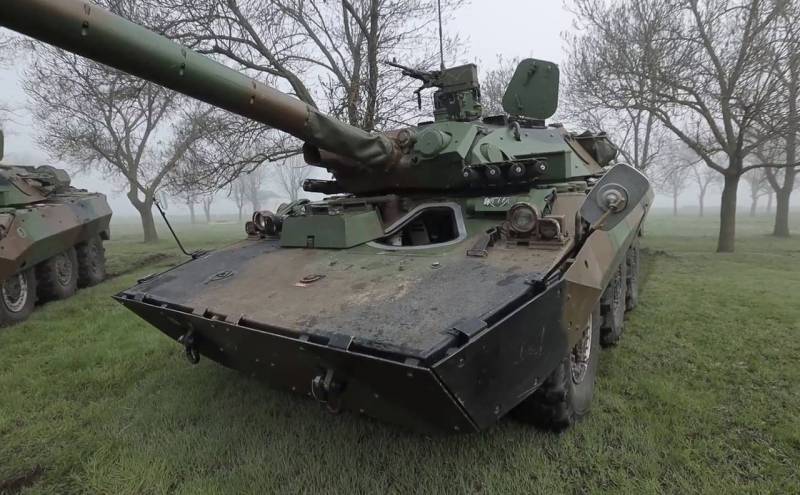 Recently, the battalion commander of the 37th Marine Brigade of the Armed Forces of Ukraine in an interview with AFP
has opened
the eyes of the Western public on some of the nuances of the "thinly armored" French AMX-10 RC, transferred to Kyiv by Paris. Now, after the discovery of new problem areas, additional details have appeared on the service of these weapons systems and their combat use.
It should be noted that the armor of the AMX-10 RC made of aluminum alloy can withstand a frontal projection of 23 mm ammunition (no closer than 300 meters), and 12,5 mm in the side projections (with additional armor - 14,5 mm). Thus, ammunition of 10 mm caliber and higher exploded in the immediate vicinity of the AMX-100 RC is guaranteed to damage, and maybe even destroy the "wheeled tank" with the crew (depending on where the fragments fall).
In addition, the 105/47 F2 MECA rifled tank gun mounted on the AMX-105 RC, although effective and capable of firing armor-piercing sub-caliber, high-explosive fragmentation, cumulative and other shells, has a big problem. It is connected just with shells - these are NATO-specific ammunition, they have a size of 10x105 mm (not compatible with standard 527x105 mm block shells for 617 mm caliber). So their logistics turned into a problem.
Another complication is that the French removed the laser irradiation sensors from the AMX-10 RC before handing over the armored vehicles to Kyiv. Now the Ukrainian servicemen, who were trained on armored vehicles with these very useful devices, are unpleasantly surprised by the dismantling. Perhaps the French did not want their secrets to end up in the hands of the Russians, but they did not bother to put at least some kind of replacement for the Ukrainians.
Another difficulty was primitive tires. Experts argued and warned about this long before the appearance of these armored vehicles in Ukraine. But now the military personnel of the Armed Forces of Ukraine are talking about this, wondering at the "forgetfulness" of the French. The consumption (wear) of tires is monstrously large. It's one thing to "cut with the breeze" through the deserts and quite another to move through rough terrain, ravines, fields, "dirt on the tower", forest belts and urbanized buildings, dotted with mines, unexploded ordnance and sharp objects under the wheels, but without "rubber" no one is going anywhere.