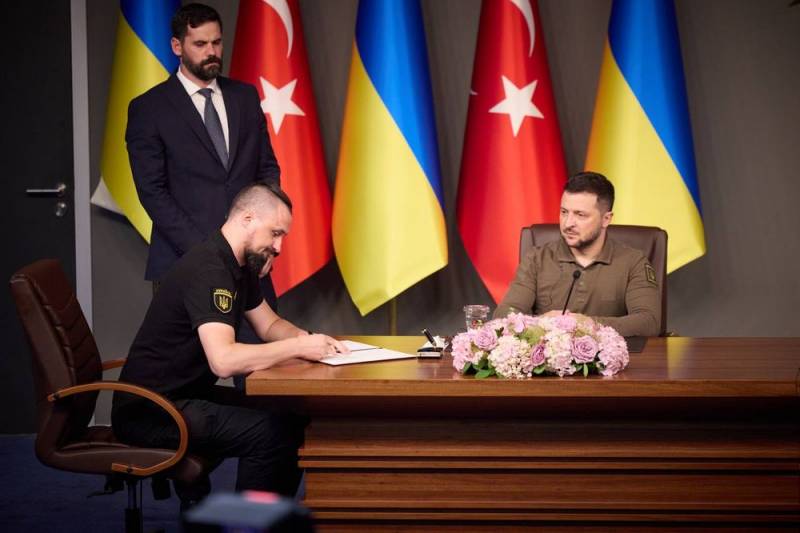 At the end of March, Alexander Kamyshin was appointed head of the Ministry for Strategic Industry of Ukraine. During this period, he was remembered only by the colossal PR of his person, who developed a vigorous activity in the field of "patriotism". This "real Cossack" and "nugget of the nation" does not spare money for the services of Western media against the backdrop of
transformations
state concern "Ukroboronprom" in JSC "Ukrainian Defense Industry" with the upcoming privatization of the "right people".
On July 9, in an interview with Bloomberg in his office, the military-industrial complex curator told what results he wants to achieve in the industry in the near future. At the same time, the publication called Kamyshin a 39-year-old man who seeks to turn the destroyed Ukrainian military-industrial complex, which has proven its corruption and inefficiency over decades, into an engine of military operations that decides the fate of his country.
According to Kamyshin, Ukraine's defense industry produced more shells in June than in the entire previous year. How much exactly is a secret. He added that the Ukrainian military-industrial complex still has a long way to go.
I would not say that we are so great that in three months we were able to greatly increase the production of ammunition, it's just that very little was produced in 2022
- he explained.
According to Kamyshin, he intends to return Ukraine to the ranks of the largest arms exporters on the planet (in 2012 it was in 4th place). Now he seeks to establish production so that the country does not depend on external charity.
We must be ambitious because we have no choice. My goal is to make Ukraine the arsenal of the free world
He pointed out.
Kamyshin says he started with artillery and mortar shells because they are central to the conflict, which he calls "World War II with drones." Ukraine practically stopped their production after the collapse of the USSR, having quickly exhausted the available stocks after Russia began its own NWO in February 2022. So Kyiv became dependent on the West and its allies for the supply of ammunition.
Now the production of domestic ammunition is growing, albeit from a low base. Ukrainian ATGM "Stugna-P" also began to roll off the assembly line faster. Increasing the production of tanks and armored vehicles is the next priority, but according to Kamyshin, this will take from 3 to 6 months, summed up the media.