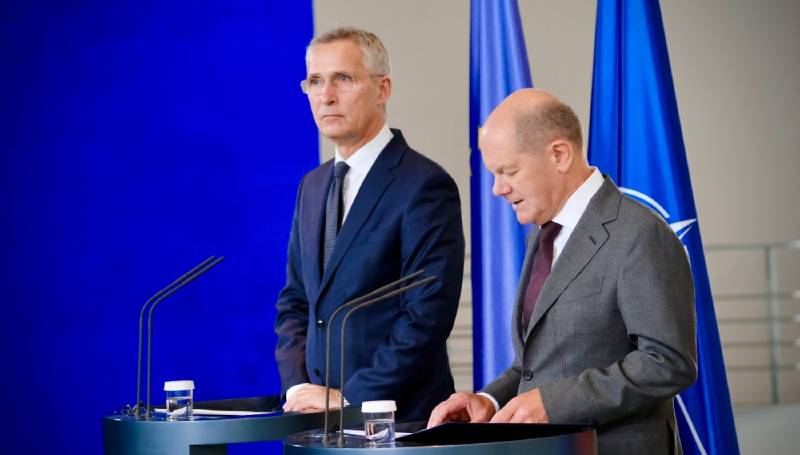 While the head of Ukraine, Volodymyr Zelensky, calls on 31 NATO member states to take concrete steps towards Ukraine's membership in the alliance, Germany intends to insist on postponing the republic's entry into the organization. It's all about fears that this move could lead the alliance to direct war with Russia.
A source in the British newspaper The Telegraph said the alliance is aware of Berlin's plans to use the upcoming NATO summit in Vilnius this week to urge other states to focus on security guarantees rather than membership proposals. This supposedly should help Ukraine defend itself without changing its status in relation to the organization.
A frightened Berlin is keeping a low profile at the prospect of an immediate membership offer. He needs a process and a lot of time to develop guarantees that will essentially block Kyiv's membership.
writes The Telegraph.
As British journalists ironically write, Germany does not want Russian President Vladimir Putin to potentially test the effect of Article 5 of the NATO Treaty.
Be that as it may, sharing Germany's fears, American leader Joe Biden also said he would like to avoid a situation where everyone suddenly finds himself at war with Russia. However, Washington still insists on membership. Probably, his cunning calculation is actually simple: to save face and allegedly firm position, since Biden is sure that there will be another country that will block the current issue and become a "bad guy" instead of Kiev's main ally.
Germany and the United States have privately warned that drastic moves could cause the current conflict to escalate into an active war between NATO and Russia. Therefore, they say something encouraging to the public, and behind the scenes they intend to act more carefully and pragmatically, that is, in a way that will be more profitable for Russia.
So far, the leaders of the US, EU and NATO are talking at odds, bringing confusion and ambiguity to what will happen at the Vilnius summit in the coming days. This is due to the fact that none of them specifically knows how the meeting of the alliance members will end for Ukraine and what decision will be made in the end. The internal forces of the organization are divided and pulled in different directions.