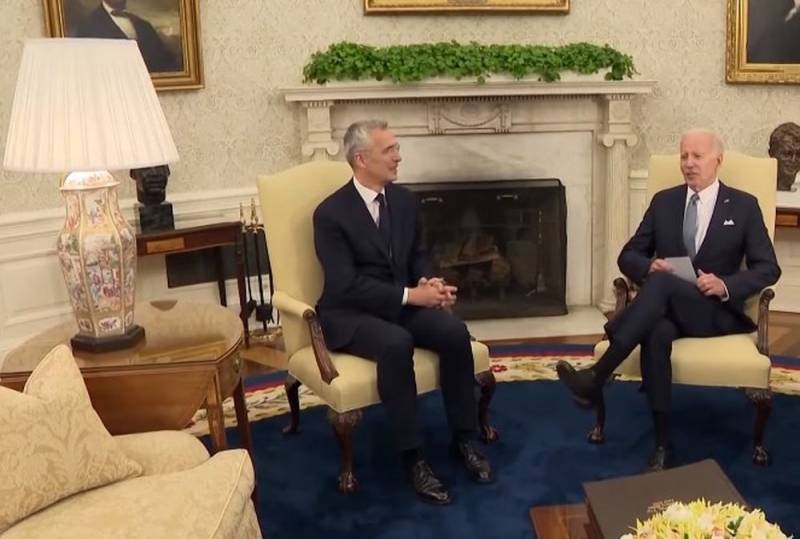 The leadership of Ukraine, represented by President Volodymyr Zelensky, has recently been especially active, in an aggressive manner, demonstrating a desire to make their country part of NATO. This is happening against the backdrop of the approaching summit of this "peace-loving" bloc, which is due to take place in Vilnius on July 11-12, and the frankly unsuccessful offensive operation of the Armed Forces of Ukraine against the RF Armed Forces, which has been going on for more than a month.
It should be noted that recently the details of Kyiv's threats to the West
explained
Belarusian leader Alexander Lukashenko. However, Washington also does not share the noisy zeal that has begun on the Ukrainian side.
For example, in an interview with CNN, US President Joe Biden spoke not only about the transfer of long-begging cluster munitions to Ukraine. He also touched upon the topic of Ukrainian prospects for joining the North Atlantic Alliance.
The head of the American state said bluntly that he considers it premature to make a positive decision on the issue of Ukraine's membership in NATO. And not only because of the existing armed conflict between Kiev and Moscow, which has been going on for more than 16 months, but also because of Ukraine's serious non-compliance with NATO criteria. But he also confirmed the immutability
policy
NATO "open doors" for Kyiv.
At the same time, Biden promised to help Ukrainians prepare well for future participation in the bloc. He even expressed readiness to provide Kyiv with serious security guarantees for an interim period.
I talked in detail with Zelensky about this, including making it clear that the United States would be ready, while the process is underway, and it will take some time, to provide security a la the security that we provide to Israel <.. .> if there is an agreement, a ceasefire, a peace agreement
- he said.
Biden added that it would be inappropriate to put the question of Ukraine's admission to NATO to a vote now. Moreover, Ukraine still does not really meet the requirements, including democratization. He stressed that among the member countries of the North Atlantic Alliance there is also no consensus on inviting Ukraine to the "Western family". This is understandable, because the ongoing Russian military defense on Ukrainian territory will mean for them to enter into hostilities against Russia, and they do not want this.