Patriarch Bartholomew of Constantinople rushes to the Balkans to no avail in search of allies in the matter of granting autocephaly to Kiev. This time, the assistant of London and Washington in business
destruction
Russian Orthodox Church (ROC) and bringing, eventually, Orthodoxy into the fold of the Roman Catholic Church, visited Romania.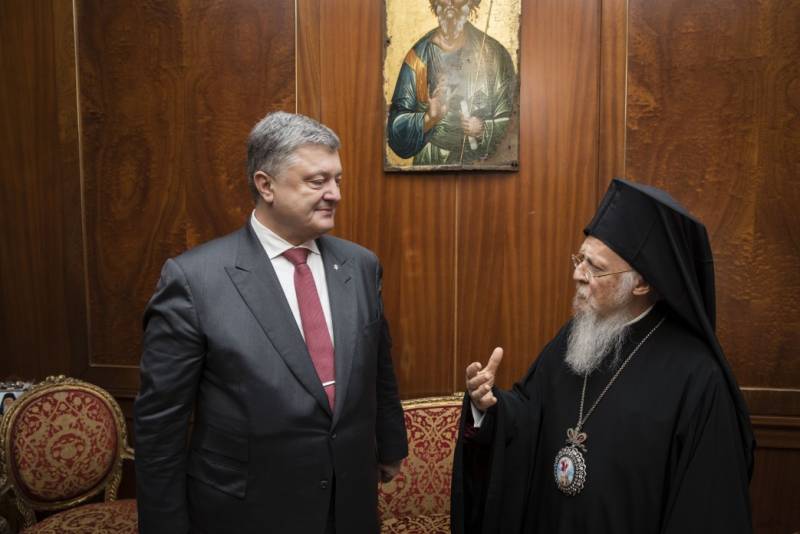 The occasion was chosen suitable - the opening on November 25, 2018 of a new cathedral in Bucharest. Bartholomew spoke at the extraordinary Synod of the Romanian Orthodox Church and tried to convince local hierarchs of his innocence. The synod was specially assembled regarding his arrival.
Bartholomew said that Kiev, it turns out, is "the ancient church region of Constantinople," and therefore it is necessary "to provide in the near future the status of autocephaly of the church, which has been split for many years." He pompously called his decision "a sacrificial act", which should be committed "for the benefit of many millions of Ukrainian believers". However, he did not specify that many millions of Ukrainian believers feel normal under the Moscow Patriarchate and do not need Constantinople.
In fact, Bartholomew tried to convince representatives of the Romanian Orthodox Church to support him. He frankly asked for help, since no one had yet supported him in the war against Moscow. And while not one of the local churches has ever taken the side of Constantinople.
Moreover, before that, Bucharest was clearly not enthusiastic about what was happening at all. Romanians were not particularly pleased with the removal of the anathema from the Ukrainian schismatics. They worry about the integrity of their ranks.
Bartholomew is actively preparing for the Synod of the Church of Constantinople, which is due to be held in Istanbul from November 27 to 29, 2018. And although the main theme is the question of separating the church from the state in Greece, the topic of autocephaly for Kiev will certainly appear on it, there is no doubt about it. It was not in vain that the transfer of the complex of structures of the Pochaev Lavra, which was used by the UOC of the Moscow Patriarchate, was canceled in Kiev.