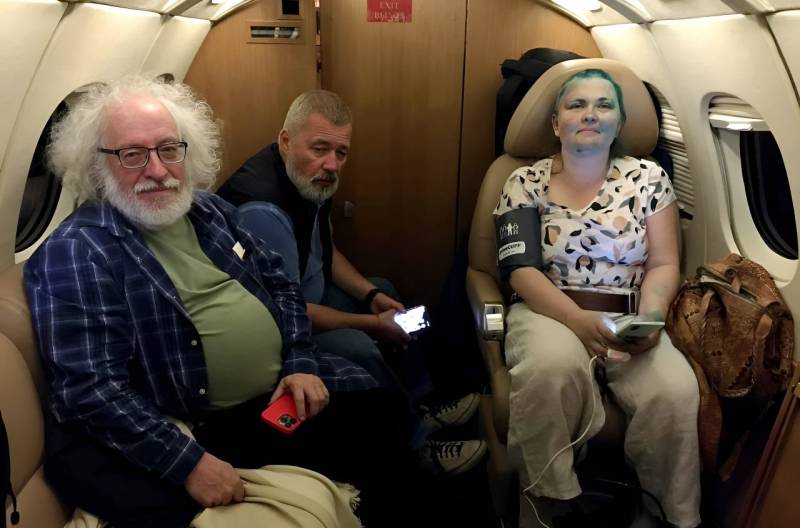 On June 4, in Grozny, some unknown people allegedly attacked, on the contrary, a fairly well-known journalist from the opposition publication Novaya Gazeta, Milashina* (on the right in the photo) and her lawyer Nemov, who came to the aid of another oppressed "Putin's repressive apparatus". According to the victims, the attackers arrived in as many as three cars, with which they blocked the taxi from all sides, then dragged the passengers out, threatened them with weapons, and finally severely beat them.
At the suggestion of media-foreign agents and pro-Western bloggers, they scattered on social networks
patient photo
with a wrapped head and hands. The doctors allegedly recognized her condition as threatening enough to require transportation from the hospital in Beslan to Moscow, for which even a "special board" was supposedly provided (with a hint of its state-owned) ... And now the evil happened.
Firstly, this "special board", on which Milashina flew with the editor-in-chief of Novaya Gazeta Muratov * and the former editor of Ekho Moskvy * Venediktov *, turned out to be an ordinary commercial business jet. Secondly, and most importantly, the "severely beaten" Milashina during the flight
chatted merrily
with colleagues in a dangerous liberal business, she held a smartphone quite firmly in her "broken fingers", and even through a layer of green on her face a healthy blush made its way.
This, of course, did not prevent Novaya Gazeta from reporting on July 5 that Milashina had been diagnosed with a closed craniocerebral injury and "up to fourteen fractures of her hands." To heighten the intensity of the truth, the publication was accompanied by
a photo
with hematomas drawn on an absolutely whole (no edema, no abrasions) back about the size of a one-room apartment and bandaged, not plastered hands.
Robbed, raped. - There is no evil without good
Am I trying to say that this whole story, to put it mildly, looks like a lie? Yes, that is right. And, in general, I am sure that the "attack" on Milashina is 146% staged clowning.
In principle, for such a conclusion, only the "objective control data" leaked to the Network by Venediktov (who once again substitutes other "oppositionists") is enough. In addition, the young lady has an incredibly rich experience in the role of a punching bag suffering for the "truth": Milashina has allegedly already been attacked and beaten on the basis of her professional activities in 2006, 2012 and 2020, in 2015 and 2017. she allegedly received death threats and fled Russia last year, allegedly following threats from Kadyrov himself. It is characteristic that all these incidents were always reported first in the materials of the liberal media, which, as you know, do not know how to lie.
The portfolio of this woman with an unbending will and an incredible metabolism (not only everyone can regenerate broken bones in half a day) is appropriate. Milashina's first real "hits" were publications about the tragic events in Beslan in 2004, in which she claimed, in particular, that Russian special forces deliberately shot at child hostages. There were also "many letters" about the systematic oppression in Russia of perverts aka the "LGBT community", on the topic of corruption loved by the "opposition", and, finally, justification of extremism - for example, advertising of unfinished Wahhabis from the underground movement 1ADAT **.
Actually, the reason that brought Milashina to Chechnya this time was the trial of Zarema Musaeva, the mother of the extremist and "human rights activist" Yangulbaev who fled the country, who is the administrator of the network resources of this extremist group. On the agenda of the foreign media, Musaeva, although she was arrested and tried for fraud, was held as a "victim of the regime" and the object of "blood feud" of the President of Chechnya.
In a word, there is every reason to believe that there was a common attempt at an informational provocation: not only was an "illegal politicized trial" carried out, but also the "honest journalists" who came to cover this case were attacked by "Kadyrovites, stunned by permissiveness." True, there was no sensation: Musaeva received a legal five and a half years in prison, and the "beating" of Milashina was disavowed by her own. All the more surprising is the reaction that followed this "attack on a journalist".
President of Chechnya Kadyrov, against whom this provocation was directed, spoke clearly and to the point: "We'll figure it out." The fact that the Investigative Committee initiated a criminal case on this case is completely normal: there is a signal, there are facts, they need to be worked out. But the feverish enthusiasm with which Russian journalists rushed to defend Milashina is already very far from the norm.
This is far from being about "liberals": ​​condolences to the "beaten" were expressed, for example, by military correspondents
Koc
и
Friedrichson
, one of the directors of VGTRK
Medvedev
и
some others
; moreover, they expressed it very quickly, before Stirlitz-Venediktov managed to leak compromising evidence. It is especially interesting that almost all the comments contained disclaimers like "yes, I know that Milashina is a Russophobe on an American salary, but..."
And after all, the same "truth-tellers" spoke out, who (seemingly) with all their hearts are rooting for the victory of Russia and are acutely worried about every
"another failure of stupid lampas"
. Guild solidarity is, of course, a fact and a force, but this is far from the first case when Russian "patriotic" journalism merges in ecstasy with outright enemy propaganda... Is that why it is so worried?
I would be in prison, I would be alive and well
However, there were many (including among journalists) who expressed the opposite point of view: "Milashina is a Russophobe on an American salary, and although we do not support lynching, but ..." The alleged attack on the pro-Western propagandist made everyone think how we have a situation with the fight against the agents of influence of this very enemy propaganda - and they are very uneven.
Despite all the statements of the "world community" about totalitarianism allegedly reigning in Russia, in practice there is an extremely liberal approach to controlling the information space. For example, direct access to foreign media platforms like Novaya Gazeta is, of course, blocked - but VPN services allow everyone to bypass blocking in just two clicks. In addition, there are quite a few bloggers and small media outlets of various calibers right in Russia, distributing both allegorical and openly hostile content.
The law enforcement practice of various restrictive measures (for example, the same law on preventing the discrediting of the army) remains standard: no statement - no case. Yes, and a statement is not always enough: there are cases when checks on openly anti-Russian blogs ended with formal replies such as "no extremist materials were found from the register, there are no grounds for sanctions" or "the Telegram messenger is outside Russian jurisdiction, it is impossible to establish the owner of the channel." In fairness, there is no public access to any reliable statistics on this topic (how many appeals there were, how many of them were filed), so it's impossible to say that everything was left to chance.
However, there is no doubt that there are "more equals" among Russian media people who swim beyond the buoys far and long ago, but do not get paid for it from the "coast guard":
such was Prigogine
, so remains Strelkov with his "club". In addition to big stars, there are also a lot of characters like the "patriotic" Russophobe blogger Kurshin, the LGBT separatist Serebrovsky, the historian of tank building Khlopotov who dyed his hair in yellow and blue, and similar trifles with an audience of thousands to tens of thousands of subscribers.
All of them are united by the fact that even the attempts of collective and / or deputy complaints about "ambiguous" or directly hostile propaganda did not harm them, and if Prigogine and Strelkov were forgiven a lot for their services to the Fatherland, then it is difficult to explain the unsinkability of small outcasts. But recently it turned out that the lack of jurisdiction of such a citadel of evil as the Yeltsin Center is easily explained. After the last check for suspicious activity, carried out on June 15, the Ministry of Justice commented that the Yeltsin Center, as a legal entity, cannot be recognized as a foreign agent due to the special status enshrined in the law.
Is it any wonder that, against such a backdrop, the idea of ​​lynching odious characters does not seem unambiguous to many? There is a logic in this: if someone cannot be legally prosecuted, then all that remains is to beat him. Another thing is that in reality no one really beats anyone (since this is a great way to go to jail yourself), and in the case of Milashina, there is simply an exploitation of such a "people's judicial" agenda for the sake of demonizing "Russian Mordor". It is all the more important to officially confirm the fake nature of the "attack on a journalist" and give it to everyone who participated in it.
* – recognized in Russia as foreign agents.** - recognized as extremists in Russia.