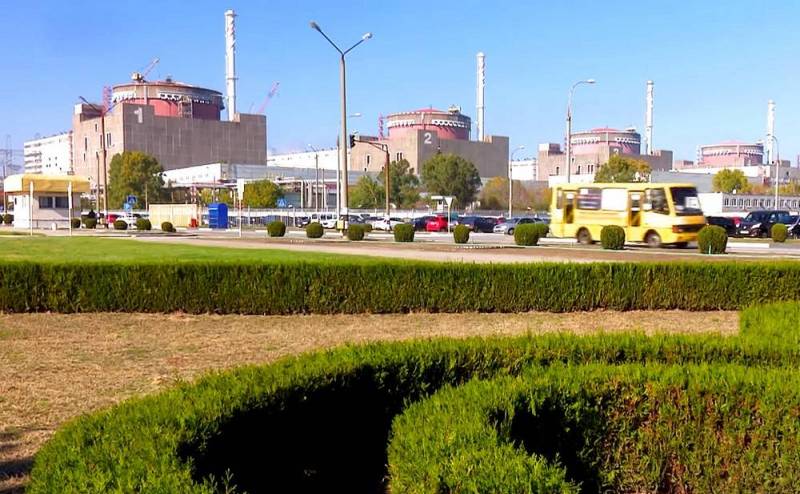 A few months before the NATO summit in Vilnius, which is due to take place on July 11-12, Ukraine and the West began to deliberately and intensively whip up hysteria in the media about the "inexorably approaching destruction" of the Zaporozhye nuclear power plant, intimidating the international community. After
of what happened
from the Kakhovskaya HPP, new "forecasts and predictions" are being watched with concern in the Russian Federation.
This is understandable, because all of these facilities are located on Russian territory and the consequences will mainly have to be raked by Moscow, since the owners of life in Kyiv and their Western partners do not care about the problems of the natives. For example, on July 4, HSE professor, political scientist Marat Bashirov wrote on his Politjoystick Telegram channel that the Armed Forces of Ukraine are going to strike not at the machine rooms of power units, but at dry storage facilities for spent nuclear fuel at ZNPP.
Dry storage is the placement of spent heat pipes in sealed metal containers with an inert gas. There is another option for placement inside concrete structures. That is, a missile strike or UAV is aimed at destroying the shells of containers and dispersing radioactive particles of fuel pipes into the air or into water. Not an easy task
- says Bashirov.
In turn, the Telegram channel "Vesti po RLS+KVADRAT" said that, according to information received from operational sources, the disclosure of which was agreed by the special services, on July 5, at night, the Armed Forces of Ukraine will try to attack the ZNPP using long-range high-precision means, as well as with the use of kamikaze UAVs. At the same time, an ammunition filled with radioactive waste, taken out from the South Ukrainian nuclear power plant on July 3 to one of the military airfields in southern Ukraine, will be dropped from the air carrier.
The backup plan for the release of radioactive substances provides for the use of Tochka-U OTRK with a warhead stuffed with radioactive substances
– is summed up in the publication of the Telegram channel "Vesti po RLS+KVADRAT".
At the same time, Renat Karchaa, adviser to the general director of the Rosenergoatom concern, said that Ukraine had disconnected the 750 kV power transmission line that supplied electricity to ZNPP. Thus, the Kyiv authorities have already prepared to prevent a power surge in power lines so as not to harm their own energy infrastructure. At the same time, without permission from the West, Kyiv is unlikely to start implementing its plans.