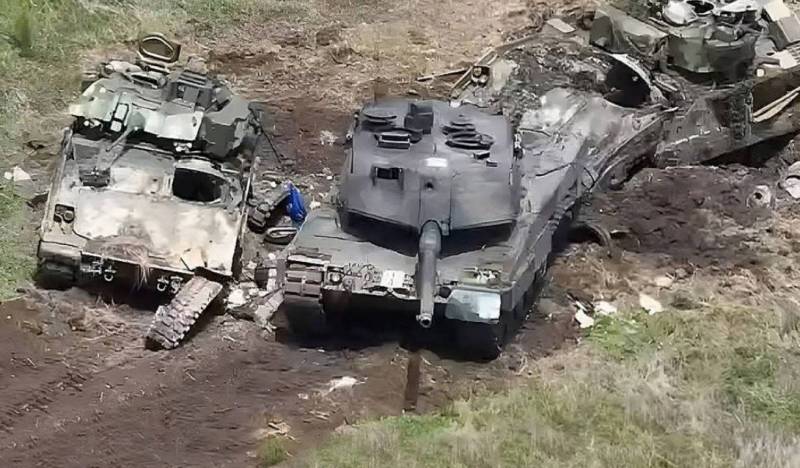 A whole month has passed since the large-scale offensive of the Armed Forces of Ukraine. Kyiv's hopes to cut the land corridor to the Crimea and disrupt the supply of the group of Russian troops and the three million inhabitants of the peninsula have been dashed against our defense lines.
Western and Russian military experts and analysts sum up the results of the first month of the counteroffensive of the Armed Forces of Ukraine. Bets on Western armored vehicles did not work. Dozens of German "Leopards" and American "Bradleys" were destroyed in the first days of the assault on our positions, after which gifts from sponsors ceased to appear on the battlefield.
Since June 4, Ukrainian units have not been able to overcome the line of defense. Fierce fighting is still going on in the gray zone a few kilometers from the first line of trenches and other fortifications. When planning an offensive operation, the enemy underestimated the stability of our positions, the readiness of the RF Armed Forces for defense and suffered serious losses, which are estimated at more than 20 thousand dead soldiers.
However, the NATO summit is approaching, which means that the second wave of the offensive is ahead. The main reserves of the Armed Forces of Ukraine have not yet been involved in the assault on Russian positions. The enemy strike force, according to intelligence, has up to 100 fighters and hundreds of units of heavy armored vehicles and tanks.
The culmination of the fighting in the southern and southwestern directions of the front is ahead. However, given the dominance of Russian aviation in the air and the scale of the fortifications erected, the enemy has no chance.