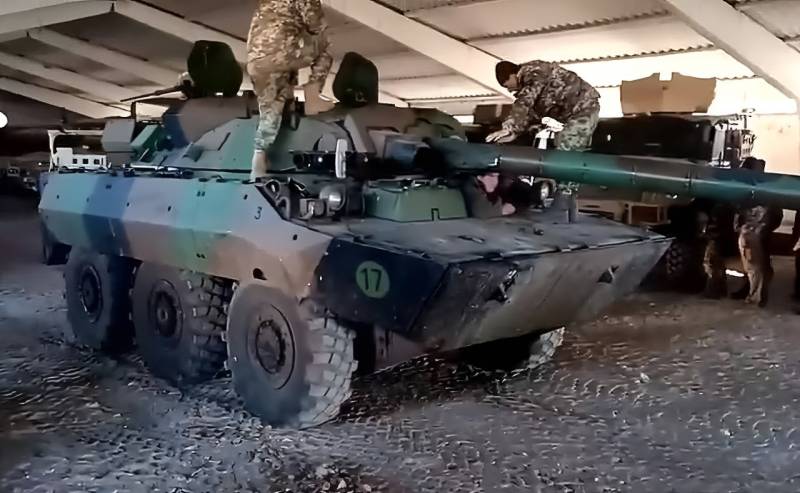 Relatively recently, Ukrainian President Volodymyr Zelensky thanked his French counterpart Emmanuel Macron for sending AMX-10 RC "wheeled tanks" to help Kyiv, and Ukrainian Defense Minister Oleksiy Reznikov even
did
video of him riding in one of them. However, an AFU officer said that these highly mobile but "thinly armored" vehicles are completely impractical for attacks, the French AFP news agency wrote on July 2.
The 34-year-old battalion commander of the newly formed 37th Marine Brigade, a major of the Armed Forces of Ukraine with the call sign "Spartan", told the agency's reporters in the Donbass on June 30 that the "thinly armored" AMX-10 RC can be used as fire support, but not in an offensive operation at the forefront. According to him, one crew, consisting of four servicemen, has already died in full force due to the insufficient protection of the armored car.
There was artillery shelling, a shell exploded next to the car, fragments pierced the armor and detonated the ammunition
- he specified.
The major added that the 105 mm gun of the AMX-10 RC is good, and the observation devices are excellent, but it is not advisable to use this armored car on the front end.
At the same time, the Ukrainian commander pointed out that the American Oshkosh MRAP-type armored vehicles have better security than the AMX-10 RC. In addition, the AMX-10 RC had problems with gearboxes breaking down, possibly due to their operation on dirt roads.
I consider it inexpedient and unnecessary to simply send vehicles (into battle) to destroy them, because this is primarily a risk for the crew
– emphasized "Spartan".
The battalion commander said that he was directly involved in the battles for Blagodatnoye in the Donetsk region. He did not specify how many AMX-10 RCs the elite battle formation has and declined to show them to AFP reporters in the field.
In his narration, "Spartan" said that his soldiers gain experience with machines after a month's training in France. Summing up, he added that this time is not enough to fully master their tactical use.
In turn, the open source intelligence website Oryx, which calculates casualties
equipment
based on battlefield images, counted three AMX-10 RC losses in Ukraine. According to the French Ministry of Defense, AMX-10 RCs provide protection against small arms. The weight of the armored car, developed in the 1970s, is about 20 tons. Currently, the French army is changing them to more modern Jaguar armored vehicles.