After the Verkhovna Rada of Ukraine in the first reading adopted amendments to the Constitution regarding the country's aspirations for the EU and NATO, Head of Independent Petro Poroshenko said in his speech that this is a signal for Russia.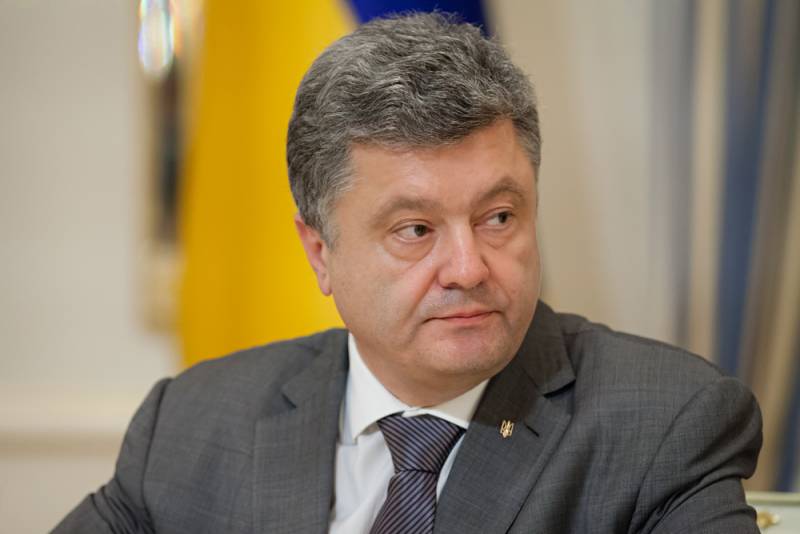 The text of the speech was published on the site of Poroshenko. In it, he paid special attention to "farewell" to Russia and attacks on her:
Having fixed in the Constitution the mandatory course towards joining NATO and the European Union, we send a message to Moscow: we part, finally and irrevocably. Russia as an aggressor country does not and will not have a veto on our entry into either NATO or the European Union. And no one will have that right
This is not the first time that the Ukrainian president has said goodbye to Russia. And every time - "finally." Only everything can't say goodbye. For example, the last time he announced this in September this year during the NATO summit in Brussels, when the uncertain prospects for Ukraine's joining the North Atlantic Alliance loomed ahead. I must say, he "peculiarly said goodbye" to Russia then, quoting the words of the Soviet song: "Goodbye, our sweet bear, return to your fairy forest".
It should be noted that it was Poroshenko who submitted to the Verkhovna Rada a proposal to amend the Constitution and fix in it the course for joining NATO and the EU. The amendments were adopted in the first reading, 331 deputies voted for them (the required minimum is 226 votes in favor).
At the same time, the Ukrainian president expressed the hope that in February next year, these amendments will be finalized.
There is one more clause in the bill, according to which the Constitution no longer has any legal grounds for the Black Sea Fleet to be in Sevastopol. However, in fact, in such matters as the Black Sea Fleet and the fate of Sevastopol, Kiev no longer has the slightest voting right. So this point remains an empty shake of air, as, indeed, the whole bill, because so far neither the EU nor NATO are eager to invite Ukraine to its composition.