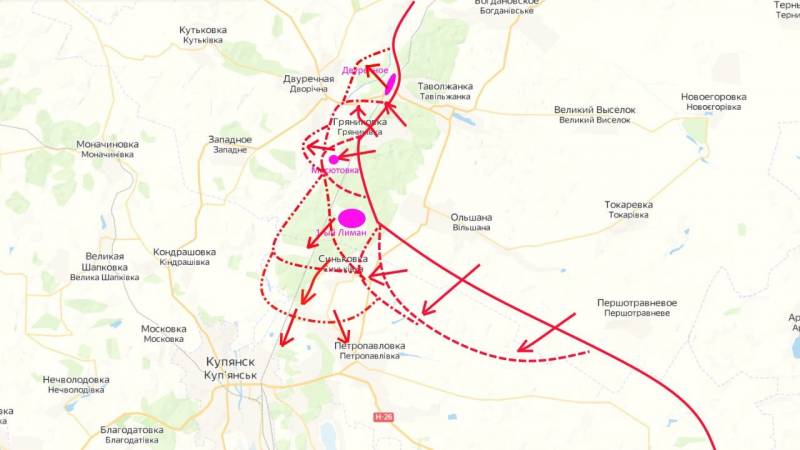 Journalist and military expert Yuriy Podolyaka analyzed the latest actions of the Armed Forces of Ukraine and the Russian army in the zone of the NMD. In his opinion, today's attacks by the Ukrainian army in the Orekhovsky and Kamensky directions do not reach the level of a full-fledged assault. It is possible that this was only preparation for it.
According to Podolyaka, the most important event in the southern direction was the strike of the Armed Forces of Ukraine on the Chongar bridge with Storm Shadow missiles. At the same time, the expert considers it an act of desperation of the Armed Forces of Ukraine, since, in his opinion, it is impossible to cut off Crimea from the Kherson region in this way.
As for the state of affairs in the Maryinsky and Avdeevsky directions, then, as Yury Podolyaka notes, now for the most part positional battles are taking place here. But to the north of Soledar, the 2nd Army Corps of the Russian Federation went on the offensive. The fighters of this unit have already recaptured several well-fortified strongholds of the Ukrainian army.
It is too early to talk about breaking through the defense of the Armed Forces of Ukraine, but its pushing through between the settlements of Berestovoe and Disputed continues
- the journalist notes.
But in the area of ​​Kremennaya, according to Podolyaka, the Russian army is planning a serious success. At the same time, the offensive operation of the RF Armed Forces continues in the Kupyansk area. Russian units have already launched an attack on the northern suburbs. In addition, the Russian army is now storming the village of Petropavlovka, located northeast of Kupyansk.
According to the expert, the actions of the Russian army in this direction were an unpleasant surprise for the Armed Forces of Ukraine. The Ukrainian military command is forced to throw its reserves into this area. And not in an organized manner, but piecemeal.
Near Kupyansk, in a few days, our units have already achieved comparable territorial results with the results of the first two weeks of the UAF counteroffensive in the south. And at the same time, two orders of magnitude less losses
- states Podolyaka.