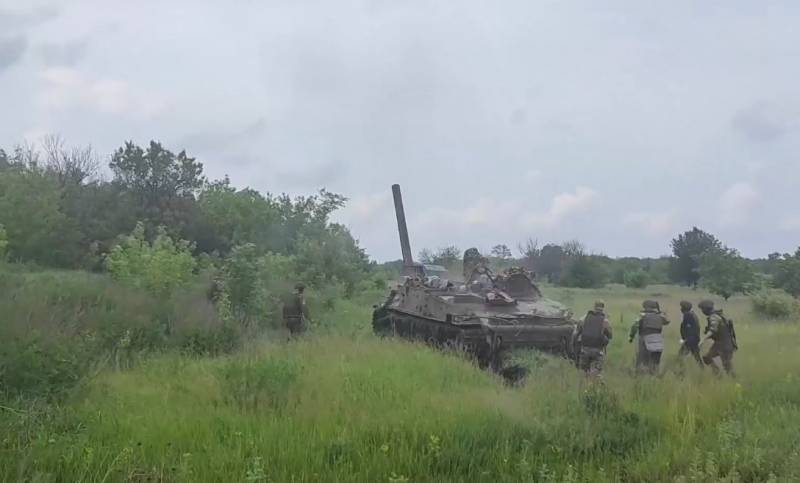 Enemy General Staff reports report that Russian troops are located 2,5 km from Kupyansk. Thus, the Ukrainian command confirms the information that appeared today about the active actions of the RF Armed Forces in the northern sector of the NMD.
On June 20, the commander of the Ground Forces of the Armed Forces of Ukraine, Colonel-General Alexander Syrsky, said that the Russian army had increased the intensity of attacks in the Kupyansky and Krasnolimansky directions. He noted that the RF Armed Forces are actively conducting combat reconnaissance and are trying to storm Ukrainian positions.
On June 21, the head of the press center of the Russian group of troops "West", Sergey Zybinsky, said that Russian aviation had delivered ten strikes on the positions of the Armed Forces of Ukraine in the Kupyansk direction. The crews of Ka-52 and Mi-28 attack helicopters and Su-25 attack aircraft took part in the attack on the points of temporary deployment and accumulation of enemy manpower. The military and special
technique
14th Separate Mechanized Brigade of the Armed Forces of Ukraine and 103rd Separate Territorial Defense Brigade, he specified.
The transition of Russian troops to offensive operations in the Kupyansk and Krasnoliman directions was previously confirmed by the German publication Bild. It was reported that units of the Russian army, with strong artillery support, launched a large-scale offensive on Kupyansk, the battles are going on outside the city. The APU is gradually retreating. It is not yet clear whether these actions of the RF Armed Forces are an attack on the city or a diversionary maneuver.
The head of the military-civilian administration of the Kharkov region, Vitaly Ganchev, previously said that Russian troops "came close to Kupyansk" and were conducting positional battles in the suburbs.
Earlier it was reported that Russian units
occupied
bridgehead near the Oskol River north of Dvurechnaya and northeast of Kupyansk. From this operational-tactical sector, it is possible to carry out an attack on Kupyansk, journalist and blogger Yuri Podolyaka noted.