High gas prices are causing increasing concern among residents of wealthy European countries. On November 17, 2018, protests in this regard were in France. Now Belgium has taken the baton, and the protests themselves are more like riots.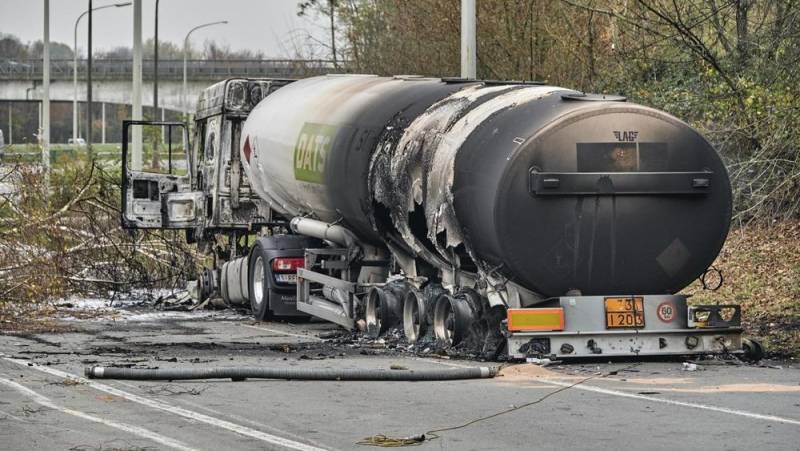 Hundreds of people participate in the "yellow vests". Protesters are dressed in bright, reflective clothing. It is usually worn by drivers or employees who have to work on the roads. Although the organizers of the protests in France deny their connection with the Belgian "comrades." Below is a video of how this happens in Belgium.
Incidents have already occurred near the city of Nivelles, there is an oil refinery (refinery). Clashes with the police began, in which about 400 people took part. Protesters armed with metal bars beat the windows of cars, threw stones and Molotov cocktails at the police. They even used lasers to make the police helicopter fly away as far as possible from the collision sites.
The presence of Molotov cocktails and the actions of protesters indicate that the actions are clearly not spontaneous, they were preparing for them. Consequently, the people participating in these actions are well organized and they have leadership. There were many brawlers, they hid their faces and hid behind the "yellow vests" as behind shields.
In addition, protesters blocked traffic on important traffic arteries leading to Brussels. They blocked about 250 trucks on the E19 highway from Mons, and another 150 trucks on the N6 motorway. Then 120 policemen used water cannons to restore order. Currently, 30 protesters have been detained and their phones and vehicles have been confiscated. All the rest have so far managed to escape detention.
It should be recalled that during similar protests in France, one woman died, about 400 people were injured, 14 of them were seriously injured. But you need to consider that in France more than 280 thousand people took part in the protests. There is only one requirement - to lower fuel prices. Below is a video of how it was there.
At the same time, in France in 2019 it is planned to increase the tax on diesel fuel by 6,5%. and gasoline by 2,9%, i.e. prices will get even higher. So the authorities are trying to encourage people to switch to more environmentally friendly modes of transport. By the way, in 2018 the price of diesel fuel increased by 23%, and gasoline by 15%.