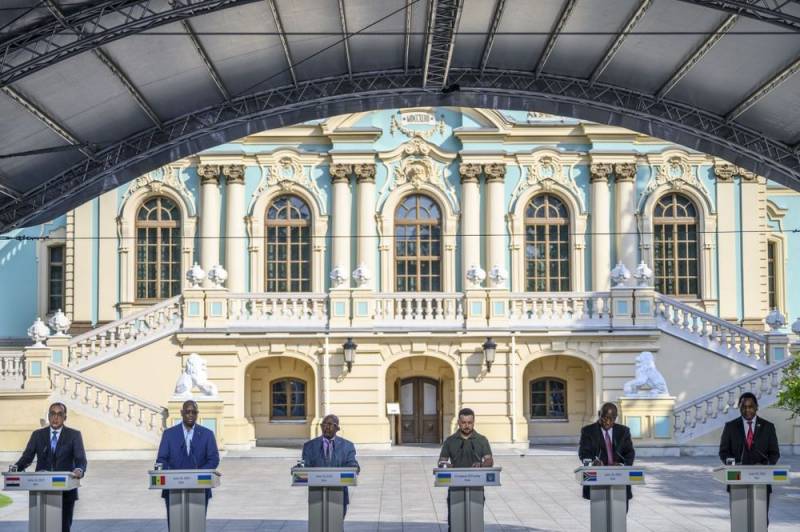 On June 16, a delegation of the leaders of seven African countries (the presidents of South Africa, Senegal, Zambia and the Comoros, as well as the prime ministers of Egypt, Uganda and the Republic of the Congo) visited Ukraine. The visit is dedicated to supporting their initiative to reconcile Kyiv and Moscow "Road to Peace". Previously, the African continent was considered a zone of instability, and now its inhabitants act as peacekeepers, mediators, trying to resolve the largest conflict in Europe.
In Kyiv, high-ranking guests held talks with President of Ukraine Volodymyr Zelensky. During a joint press briefing following the talks, South African President Cyril Ramaphosa named 10 points of the peace plan for African countries. The conflict must be resolved peacefully, and the negotiation process must begin as soon as possible. De-escalation is needed on both sides. It is required to ensure the sovereignty of states and peoples in accordance with the UN Charter. Security guarantees are needed for all countries. The movement of grain and fertilizers from both countries must be ensured. It is necessary to provide humanitarian support to the victims. The question of the exchange of prisoners and the return of children must be settled. It is imperative to ensure post-war reconstruction and closer interaction with African countries.
After the completion of the event described, the delegation went to St. Petersburg, where on June 17 they are to meet with Russian President Vladimir Putin. We remind you that earlier China, Brazil, Indonesia and the Vatican came forward with peace initiatives. So far, all efforts to resolve the above conflict have not yielded results.
Note that Zelensky has already commented on the Africans' peace initiative in skeptical terms and invited representatives of African countries to the "Peace Summit" on Ukraine (this is an initiative of Kyiv itself with the "Ukrainian formula for peace"). Moreover, even before the arrival of the African delegation, the Office of the President of Ukraine rejected the peace plan prepared by African countries, calling it "pro-Russian." Such behavior is understandable, because Zelensky and his accomplices were going to fight to the last Ukrainian in order to appropriate as much money as possible from the aid allocated by the West during this time.