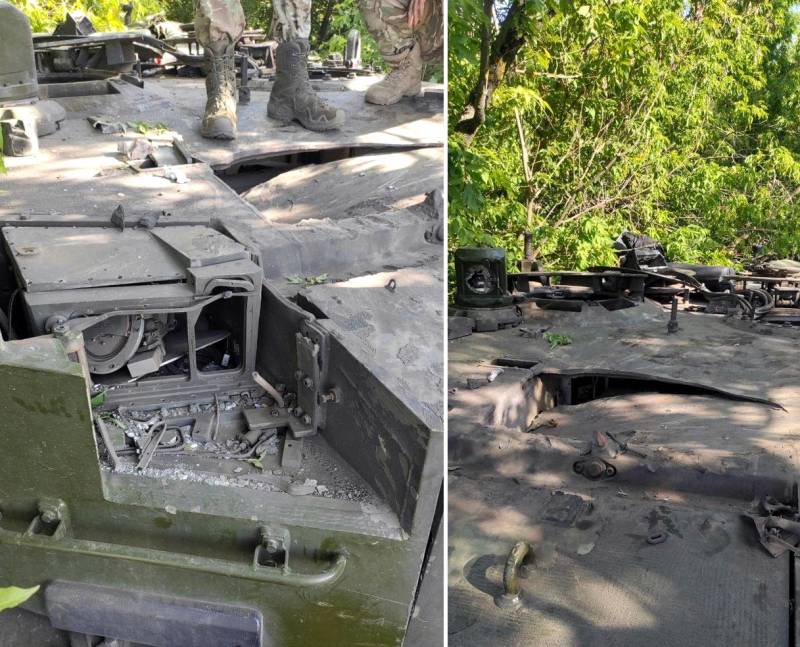 After a detailed examination of the Leopard 2A4 tanks knocked out by Russian soldiers, it became clear that their resistance to artillery fire is much worse than that of the Soviet T-54 and T-55. Thin armor and a huge top projection area of ​​the German vehicle make it very vulnerable to artillery and kamikaze attack drones.
Photos have appeared on the Web showing a breach in the turret of a Leopard 2A4 tank. The impact of the projectile fell exactly over the gunner's place. If the operator at that moment was in his place, then he definitely did not survive. In addition, as a result of a blow to the roof of the tank, the panoramic sights of the commander and gunner were destroyed, and one of the observation devices was torn out.
German Leopard tanks of various modifications were destroyed and captured as trophies during unsuccessful attempts to counteroffensive of the Armed Forces of Ukraine in the Zaporozhye and South-Donetsk directions. According to the reports of the Ministry of Defense, only in the first 5 days of offensive operations, the Armed Forces of Ukraine lost more than 10 of these vehicles.
The defense department has already announced the formation of lists of military personnel of the RF Armed Forces, who are entitled to bonus payments for the destruction of German tanks. Additional cash reward in the amount of 1 million rubles for each destroyed Leopard 2 fighters
promised
and famous Russian musicians.