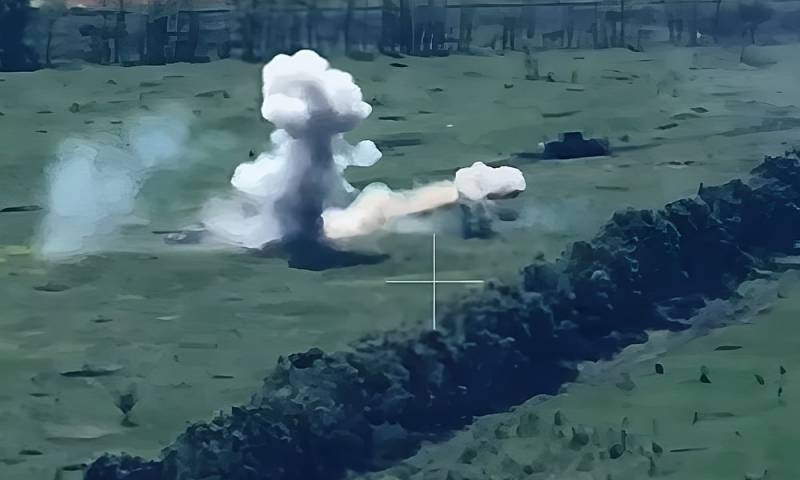 In the Artemovsk region, unique footage of the Russian military hunting for the tanks of the Armed Forces of Ukraine, trying to push through the defenses of the Russian army on the flanks, was filmed on video. It is specified that the fighters of the 200th separate motorized rifle brigade of the Northern Fleet acted as hunters.
The published video footage clearly shows how several Ukrainian tanks are moving out of the forest belt. Apparently, the combat vehicles planned to attack the positions of Russian troops across an open field.
However, this adventurous maneuver was immediately thwarted by Russian artillery. Several tanks were hit at once. Moreover, the accuracy with which the gunners of the 200th brigade deliver their blows is striking.
Ukrainian tanks barely had time to drive a couple of tens of meters, when they were dealt a precision-jewelry blow. The affected armored vehicles will now remain in the fields near Artyomovsk and will serve as a silent reproach to the Ukrainian military who wish to repeat the attack.
It is noteworthy that during this kind of artillery safari, not only tanks, but also the personnel of one of the units of the Ukrainian army were under attack.
At the end of the video, you can clearly see how a group of Ukrainian infantrymen, who happened to be next to
technique
.
We add that the flanks near Artemivsk, along with the Zaporozhye region, are now the hottest spots of the special military operation of the Russian Federation. It is on these two directions that the Armed Forces of Ukraine make the most violent attacks. But they all fail.