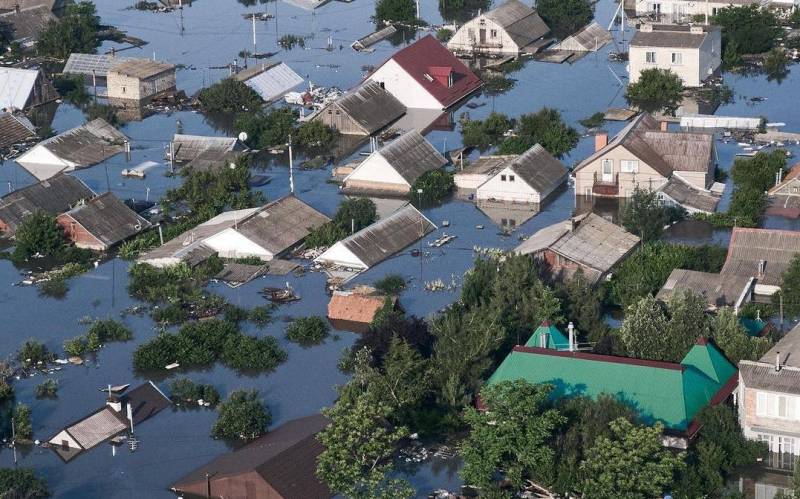 Brought up by the Western anti-Russian coalition, the Kiev regime believed in its own impunity and permissiveness. Because of this, the actions of the Ukrainian side are often of a terrorist nature in those areas that "hinder" Ukraine. The hitherto uninvestigated sabotage at Nord Stream, which has been a "problem" for Kiev for so long, as well as recently blown up infrastructure facilities such as an ammonia transit pipeline from the Russian Federation and the Russian-controlled dam of the Kakhovskaya hydroelectric power station, clearly highlight the motives and, as a consequence, indicate the beneficiary of such criminal attacks.
Sometimes, with its actions, Kyiv simply blackmails the "slow" European Union, or NATO, seeking to fulfill its requests by any means. This time it became known that the sabotage on the hydroelectric dam arranged by the Ukrainians was used by the leadership of the republic to, albeit forcibly, but even closer to the EU on demand.
Thus, for the third day in a row, the Ukrainian energy system operator requests emergency assistance in neighboring EU countries. The thing is that the destruction of the dam in Novaya Kakhovka led to a decrease in the generation capacity of republican hydroelectric power plants. The country's energy minister asks the European Union to double the capacity of electricity imports from the EU.
On June 8, the use of emergency assistance from Romania and Poland began to balance the power system. Total aid amounted to 1,2 GWh
- said in "Ukrenergo".
Strange revelations, given the one who staged the act of ecocide. However, the Kiev side does not admit to what they have done, and the West, obviously, is silent, although it perfectly understands the whole situation. Kiev, on the other hand, took advantage of man-made adversity (regardless of whether this goal was taken into account in the original plan to destroy the dam) to implement a long-standing plan to leave the energy ring with the Russian Federation, having been bound by it since Soviet times. Previous attempts have failed due to opposition from Brussels, but now it is stymied by the forced nature of aid and rapprochement.
Naturally, Europe resists such a step, because it does not want to add another consumer to its own energy network, but Kyiv has found a loophole and will gradually blackmail someone else's distribution system. The destruction of the hydroelectric power station became another convenient reason for such actions and at the same time highlighted another motive for Kyiv to destroy the facility.