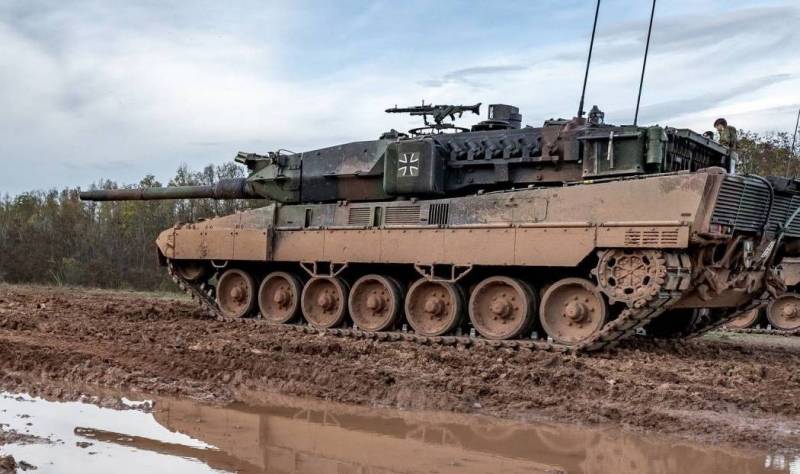 The Russian army has already destroyed hundreds of armored vehicles in the course of repulsing the attempts of the offensive of the Armed Forces of Ukraine in the Zaporozhye direction. The Leopard 2 tanks, on which Kyiv had high hopes, were no exception.
On the night of June 8, the enemy launched another offensive in the Orekhovsky direction. After a powerful artillery preparation, the Armed Forces of Ukraine advanced columns of armored vehicles, which included about 40 tanks. Among them were involved and German Leopard 2.
Despite the movement of the enemy
equipment
with the headlights off, Russian special forces reconnaissance was able to detect enemy tanks at a sufficient distance from the positions of the RF Armed Forces. This allowed the Ka-52 attack helicopters to reach the battlefield in time.
The enemy cleared passages in the minefields with the help of the UR-77 Zmey Gorynych installations, after which engineering vehicles with trawls went forward, ensuring the safe passage of tanks and infantry. The Leopards were operated by well-trained Ukrainian crews on European ranges, and they would certainly have been able to quickly line up in battle formation and attack Russian strongholds after overcoming the minefields.
But thanks to the early detection of enemy armored vehicles were shot at the approaches to the minefields. Tanks were hit by ATGMs, artillery and helicopters that arrived in time. As a result, by morning, 20 destroyed tanks remained on the battlefield in the gray zone, including four Leopard 2s.
After the Ministry of Defense published the supporting footage, the Western press dramatically changed the tone of the headlines. The tabloid Bild reported sadly about the first German tank that had been knocked out, although just a day ago it was victoriously writing about how "Ukraine is advancing on Russians with Leopard 2 tanks."
In just five days of offensive operations, the Armed Forces of Ukraine lost more than 10 Leopard 2s, and not a single German tank was able to fire at our positions. All of them were destroyed on the way.