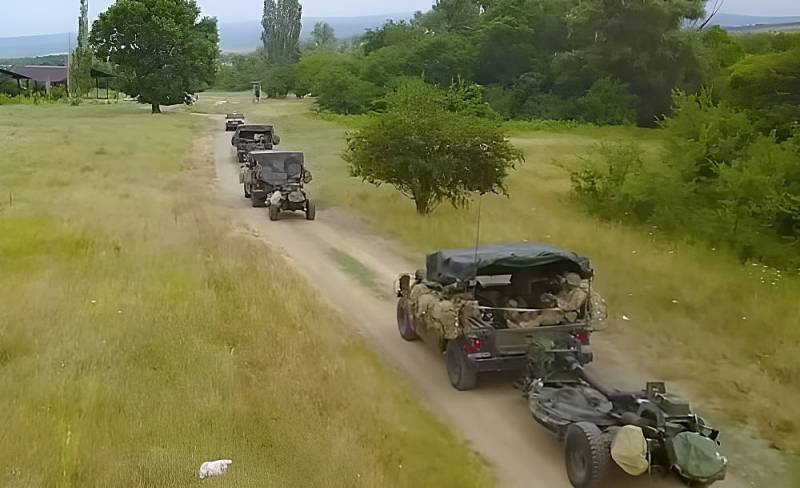 The Ukrainian command continues to throw more and more reserves into the offensive in the Zaporozhye direction, regardless of the colossal losses. The Armed Forces of Ukraine are trying to break through our positions almost continuously.
During last night, dozens of armored vehicles again tried to break through in the area of ​​​​the village of Rabotino near the city of Orekhov. For the second day, the enemy offensive is held back by units of the 291st and 70th Guards Motorized Rifle Regiments, supported by reconnaissance, artillery and aviation.
There is no breakthrough of the front yet, but in one of the sections near the settlement of Rabotino, Russian forces retreated to reserve fortified positions. The Armed Forces of Ukraine are trying to push further, but bombers and combat helicopters cover suitable reserves.
Heavy fighting is now going on in the area of ​​the Lobkovoe settlement. Here, the 128th Mountain Assault Brigade of the Armed Forces of Ukraine, using Western armored vehicles, is attacking Russian positions, but so far remains in the gray zone. After several unsuccessful attempts, the enemy still managed to move forward a little, and now he is trying to gain a foothold on the outskirts of an abandoned village.
Near the village of Lobkovoe, a group of infantry fighting vehicles and about 20 Ukrainian militants tried to evacuate the wounded brothers.
Russian forces, supported by aviation and multiple launch rocket systems, counterattack the enemy in order to dislodge him from his positions. Artillery, with the assistance of intelligence, destroyed several groups of UAF personnel, along with armored vehicles, who were about to move forward in the gray zone. In addition, heavy
technique
the enemy is blown up by minefields set up by the Russian army.
Enemy losses over the past two days have yet to be calculated, but it is obvious that they amount to dozens of armored vehicles and hundreds of manpower. Nevertheless, fierce battles in the Zaporozhye direction do not stop.