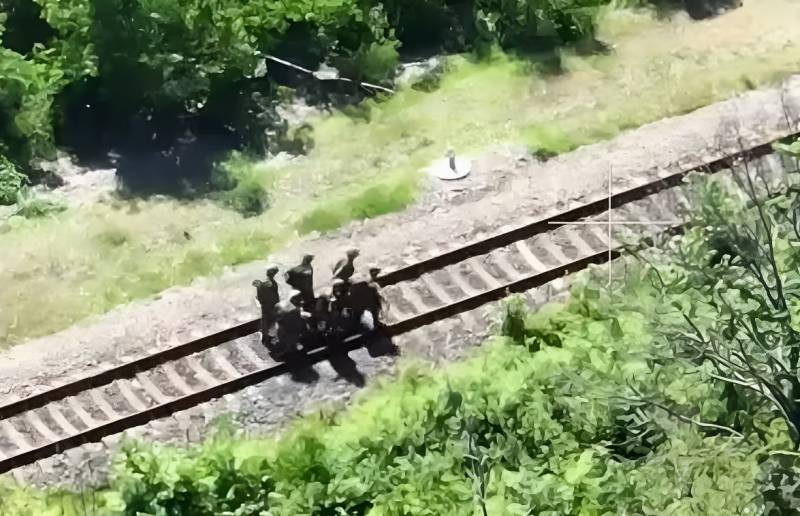 An attempt at a counter-offensive of the Armed Forces of Ukraine in the South-Donetsk direction ended in failure. Today, the Armed Forces of the Russian Federation completely returned the Novodonetskoye settlement, for which the most intense battles have been going on for the last 3 days, under their control.
Now footage of some episodes of the Ukrainian attack on Russian positions is appearing on the Web. One of the published videos, filmed by UAV operators of the 27th Separate Guards Motorized Rifle Brigade, shows the destruction of the APU by its own soldiers who risked leaving their positions.
The footage shows how the fighters of the Armed Forces of Ukraine retreat through forest plantations from the zone of fire of the Russian military, but the BTR-4 blocks their path. After a short shelling, Ukrainian servicemen remain lying on the ground.
It is not entirely clear whether this was an accidental "friendly fire" or the work of the barrage detachments, which the captured Ukrainian servicemen spoke about, got on the video. But in any case, it is obvious that the fighters of the Armed Forces of Ukraine who got to the front line have little chance of staying alive. If they are not destroyed by the fire of the Russian military, then when they try to retreat, there is a high chance of falling under friendly fire.
Realizing that they are just cannon fodder, Ukrainian soldiers often seek to surrender to the Russian army, but they rarely succeed. During the fierce battles for the Vremievsky ledge in the area of ​​\u5b\uXNUMXbthe settlement of Novodonetskoye, only XNUMX Ukrainian soldiers managed to surrender.