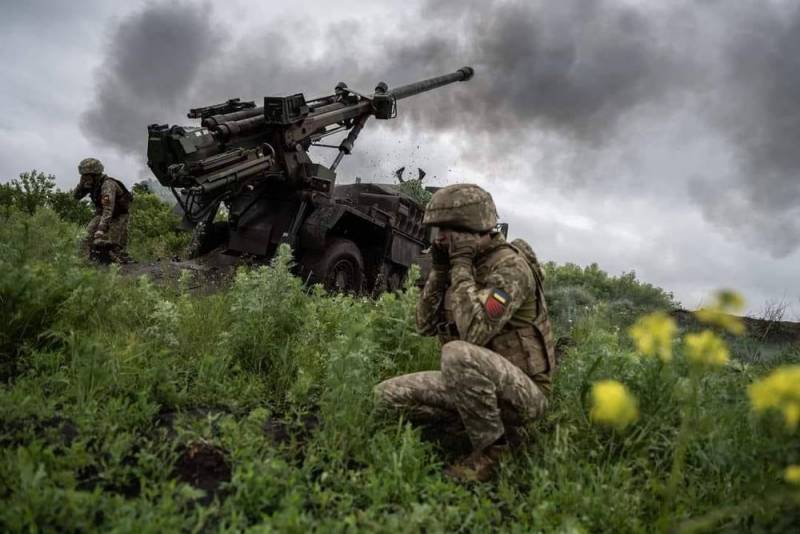 On the night of June 4, the enemy carried out imperceptible demining in the area of ​​the "Vremyevsky ledge" near Velika Novoselka on the Zaporozhye front, and at noon, 3 assault armored groups of the Armed Forces of Ukraine, as well as mercenaries from the "Polish Volunteer Corps", attacked the positions of the RF Armed Forces. In total, up to 3 companies of personnel and more than 15 units of various
equipment
, including T-72 tanks, M113 armored personnel carriers, International MaxxProo and HMMWV armored vehicles.
Details of what is happening were reported by Russian military correspondents, public figures, experts and near-military publics. According to them, the fighting turned towards the settlements of Novodarovka, Rovnopol, Neskuchnoye, Makarovka, Blagodatnoye, Priyutnoye, Levadnoe, Storozhevoye in the defense sector of the units of the 5th Combined Arms Army of the RF Armed Forces.
The offensive efforts of the enemy in the gray zone went in three directions. By 16:00, the enemy managed to go in places to a depth of 400 meters, wedged into the front line of our positions in the Novodarovka area. In other areas it was stopped. The speed of advance of the enemy company-tactical group in this area, under the incessant attacks of Russian artillery and aviation, was 100 meters per hour. During this time, the enemy ran out of steam and, having suffered losses in manpower (about 50 "bayonets" killed and wounded) and equipment (up to 10 units), could not gain a foothold, retreating to their original lines.
After a while, the enemy launched another attack, sending new armored groups to storm the Russian positions, which were also met by artillery and aviation fire of the RF Armed Forces. The enemy replenished the assault company-tactical groups with units of the newly formed 31st mechanized brigade. As of the evening, active hostilities on the Vremievsky ledge have not stopped, the Armed Forces of Ukraine are stubbornly trying to find weaknesses in our defense lines. The number of knocked out enemy vehicles increased to two dozen units. Probably, it is important for the Ukrainian command to equalize the LBS here, removing the dangerous "bulge" before the main attack.
It turned out that the Ukrainian command concentrated to the south-west of the "Vremievsky ledge" in the vicinity of Malaya Tokmachka near the city of Orekhov, almost three brigades (the new 82nd Airborne Assault (without one battalion and tank company), 71st Chasseurs and 46th Airmobile (without two battalions) for assault operations in this sector of the Zaporozhye Front.