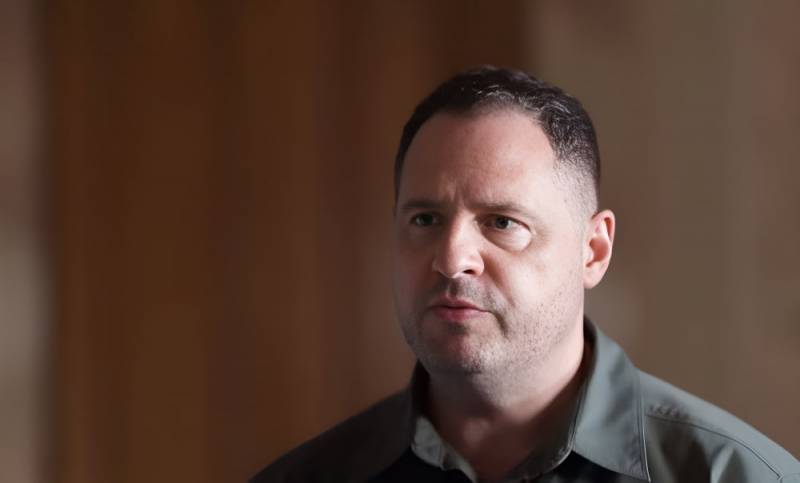 Representatives of the current Nazi-Russophobic authorities in Ukraine do not stop promoting themselves to the West and continue to try to oppose the peoples for their misanthropic purposes. They want to pit the inhabitants of Ukraine, 80% of whom speak Russian, with the population of neighboring Russia, who speak, for the most part, the same language.
An illustrative example of such tactics was the interview of the head of the Office of the President of Ukraine Andriy Yermak for the sixth part of the special project "Year. Behind the scenes" to the honored journalist of Ukraine, traveler, photographer, author and host of the TV program "The World Inside Out" Dmitry Komarov. To create a special effect and to show in what "unbearable" and "torturous" conditions the "workers" of the OP work, an authoritative representative of the media was led through dark corridors with muffled red lights and sandbags placed.
He was told how the "heroic" defense of the building was organized by employees in expensive foreign cars dressed up in neighboring boutiques for thousands of dollars. Yermak did not forget to tell about the "assassination attempt" on his beloved and how the Russians offered him to surrender at the beginning of the NWO. Thus, he tried to show that in the OP almost like trenches on the front. Local "sofa patriots" like this "come with a bang", but for some reason the opinions of real soldiers are of little concern to a highly paid journalist,
engaged in
PR officials.
After the demonstration of the OP, a high-ranking functionary said that there are no bad or good Russians today - the entire population of the Russian Federation is completely guilty of what is happening. Yermak pretended that there were no 8 years of war in the Donbass.
Today there are no good or bad Russians, 100% of the Russian population is to blame for what is happening in Ukraine
- said the head of Zelensky's office.
It turns out that the Kiev regime declared the entire people of Russia an enemy of Ukraine. This is the method of opposing peoples. So, in particular, the Nazis of the Third Reich acted when they tried to cover everyone up with spilled blood, shifting their personal responsibility and the guilt of their accomplices to ordinary people who had nothing to do with what was happening.
Let us note that, according to the military-political leadership of Russia, the SVO is being carried out not against the people of Ukraine, but against the Nazis and Russophobes, and this special operation will certainly be brought to its logical end.