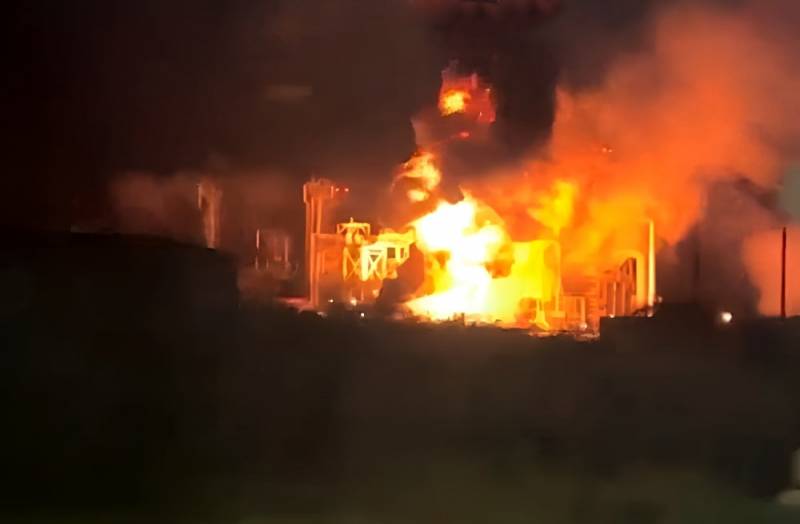 Enemy drones continue to attack Russian cities hundreds of kilometers from the contact line. Last night, a Ukrainian drone again flew to Krasnodar. The target of the attack was the Afipsky oil refinery, 10 kilometers from the regional center.
Eyewitness footage shows a serious fire at the enterprise. The governor of the region, Veniamin Kondratiev, confirmed the information about the fire at the fuel oil distillation unit. By 5 o'clock in the morning, the fire at the Afipsky refinery, located in the Seversky district of the Krasnodar Territory, was localized, there were no casualties.
This is the third arrival of an enemy attack drone in the southern region of Russia in a week. On May 26, two UAVs fell on an office building in the Kuban capital, and on May 28, several drones tried to attack the Ilsky Oil Refinery. Fortunately, as a result of the explosions of Ukrainian drones, there were no casualties or injuries among the civilian population.
Obviously, with such attacks, the Kiev regime expects to sow panic among the Russians, as well as divert the attention of its own citizens and Western sponsors from the loss of Artemovsk. Recall that yesterday Ukrainian terrorists attempted a mass drone attack on
Moscow
and Moscow region. Unlike the Ukrainian air defense, the Russian Pantsir air defense system successfully repelled the threat, hitting most of the flying UAVs.