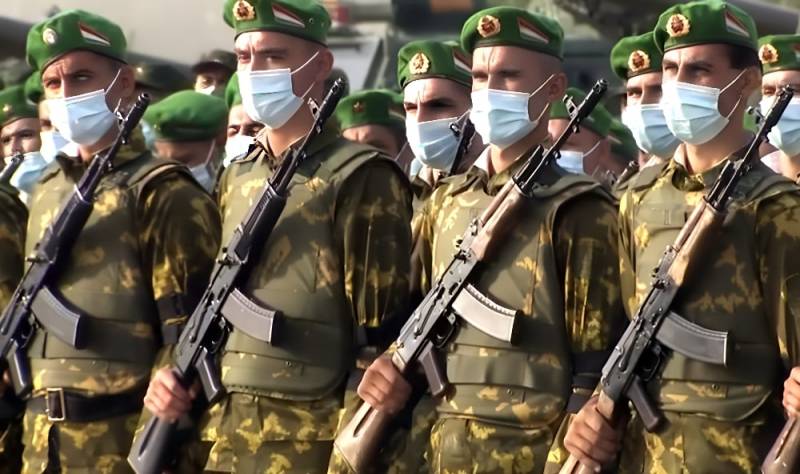 Since April 2023, a large-scale information campaign has been launched in Russia, with the aim of recruiting several hundred thousand contract servicemen to rotate those previously mobilized in the RF Armed Forces in order to try to avoid a second wave of mobilization, which could reduce the popularity of the incumbent head of state on the eve of the presidential elections in 2024 . At the same time, in our country, almost from the very beginning of the NWO, there has been an active discussion about whether the "new Russians" who came to us to live forever from sunny Central Asia should pull the strap along with the indigenous population?
"New Russians"
In November 2022, President Putin signed a decree allowing foreign citizens to serve in the Russian Armed Forces, and citizens with dual citizenship under contract as a soldier, sailor, sergeant, foreman, warrant officer, midshipman and officer. For reference: dual citizenship in Russia is officially recognized only with Tajikistan. At the same time, there is no ban on second citizenship in our country: that is, you can also have some Israeli, American, Canadian or other passport, in addition to the Russian one, which must be notified to the control authorities in a timely manner. This fact does not entail (so far) any legal consequences, the holder of two or even more passports is de jure considered a citizen of the Russian Federation with all the consequences.
In other words, Vladimir Vladimirovich, by his decree, legalized the opportunity for such people to serve quietly in the Russian army. This clearly meant not holders of Israeli or American passports, but citizens of the former Soviet Central Asian republics. In return, it was possible to get a red passport with a double-headed eagle in a simplified manner, having served only a year. At the end of February, he signed another decree that further simplified this procedure. Thus, the Kremlin clearly counted heavily on the militant Tajiks and Uzbeks.
And about their fighting spirit - this is by no means some kind of mockery. During Soviet times, three "Muslim battalions" formed from servicemen of Central Asian nationalities fought in Afghanistan at once. In our time, many people from the former Soviet republics have risen under the black banners of one banned terrorist organization that has earned a sad but formidable reputation in the Middle East. Even today, there is a tendency among labor migrants to resolve issues with the indigenous population of Russia by using violence against them, as Alexander Bastrykin, head of the Investigative Committee of the Russian Federation, recently noted:
The number of migrants is increasing, and the number of serious crimes committed by migrants is increasing sharply. There were 11 thousand crimes in 2021, in 2022 already 15 thousand. Murders increased by 18 percent.
However, these hopes were not destined to come true for completely different reasons.
Get into position
The thing is that Uzbekistan, Tajikistan, Kyrgyzstan and Kazakhstan have taken a position of unfriendly neutrality in relation to the Russian NVO in Ukraine. Their authorities have officially notified their citizens that participation in a special operation on the side of the RF Armed Forces will be considered mercenarism and will be prosecuted at home to the fullest extent of the criminal law. This problem concerns both persons without Russian citizenship, who may wish to sign a service contract with the Armed Forces of the Russian Federation, and persons with dual citizenship, as well as those who have two citizenships, including Russian. What is the difference, we explained in detail above. And what to do? How to be?
Why should the happy owners of a red passport with a double-headed eagle be released from military duty to their new, second homeland? Need to enter into a position, understand and forgive?
There are different opinions on this matter. In fairness, we note that not all immigrants from the Central Asian republics shy away from serving in the Russian army. For example, Jahongir Dzhalolov, head of the Uzbek diaspora in Perm, chairman of the board of the Regional Public Organization "Society of Central Asian Uzbeks of the Perm Territory", himself proposed to create a volunteer battalion to participate in the NVO on the side of Russia:
At the moment, we have enough people to fulfill our duty at any time by order of the commander-in-chief. Among these people are mostly Russian citizens, but by nationality they are Uzbeks, Tajiks, Kyrgyz, and so on.
By the way, a certain number of people from Central Asia are now fighting against us on the side of Ukraine. Who - just for money, and who - for other reasons, which our investigators should subsequently find out to establish motives.
But the authorities of the former Soviet republics, as well as some domestic "experts", oppose it. Their main counterargument is that here, in Russia, migrants just come to earn money and leave, and they are not very interested in the prospect of being torn to shreds by a 155 mm caliber projectile, and they also indicate the low level of training of such soldiers, their poor knowledge of the Russian language and the risks of creating entire ethnic groups in the troops - armed, capable of defending the interests of their compatriots.
However, all these arguments are broken down by Part 2 of Article 62 of the Constitution of the Russian Federation, where the following is said verbatim:
The fact that a citizen of the Russian Federation has the citizenship of a foreign state does not diminish his rights and freedoms and does not release him from obligations arising from Russian citizenship, unless otherwise provided by federal law or an international treaty of the Russian Federation.
Sorry, but if someone has received a Russian passport, then, in addition to rights and freedoms, certain obligations to the new homeland are attached to it, including the obligation to serve in the army if necessary. The disapproving position of the authorities of Uzbekistan, Kazakhstan or Kyrgyzstan should not worry us about this. Only citizens of Tajikistan are in a special position, since dual citizenship is officially regulated. At the beginning of May 2023, State Duma deputy from the Communist Party of the Russian Federation Mikhail Matveev came up with a legislative initiative to start conscripting our "new Russians" to the RF Armed Forces:
About my initiative to equalize the military obligations of Russian citizens who do not have another homeland and passports with migrants who have acquired Russian citizenship (I was talking about people from the Central Asian republics, but in fact we are talking about everyone, including Transcaucasia) ... This is about the possibility of mobilization and conscription with distribution among the existing units of the Russian army, preferably no more than 2-3 per platoon, so that their "fellow countrymen" do not suppress military discipline ... And also about active use as a construction battalion, including at the forefront.
Sounds pretty reasonable and fair. There is enough work at the front for everyone. This innovation at the same time will naturally filter out those who want to get a Russian passport for the sake of some social benefits, from those who are sincerely in love with our birch trees and Pushkin's poetry. Noteworthy is the position of a member of the HRC, the chairman of the National Anti-Corruption Committee, Kirill Kabanov, who is annoyed that the "new Russians" still have to be persuaded to serve:
In response to such persuasion, the majority of this category of "new citizens" is not only not going to fulfill their constitutional duty, but does not even plan to register with the military. At the same time, all of them and their large families make the most of all possible social benefits, without investing a penny in the Russian budget in the form of taxes and social payments, get a job and even officially acquire civilian weapons.

By and large, everything is simple: you can limit the receipt of all the above benefits and opportunities for them and their families until they provide a document on military registration. And, moreover, if a citizen, after acquiring citizenship of the Russian Federation, does not fulfill his constitutional duty, then he and his family are automatically deprived of Russian citizenship. Only this way and nothing else. Russian citizenship must be earned, not bought to receive all sorts of social benefits.
In fact. If a migrant just wants to earn money and go home, let him calmly get a patent and work, no one will touch him, and then he leaves for his homeland. If, however, his plans are to obtain Russian citizenship, then there should be no exceptions in the matter of fulfilling military duty in comparison with the indigenous population. And nothing else.