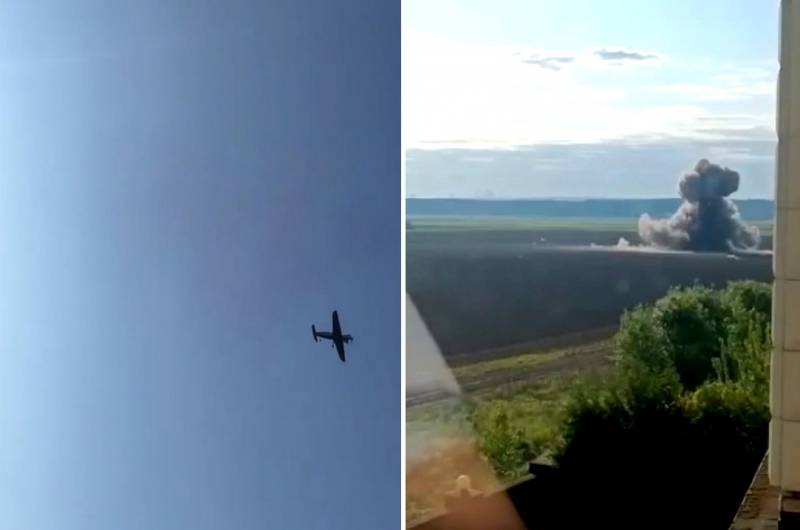 On the eve of the mayor of Kyiv, Vitali Klitschko, demanded that the commander-in-chief of the Armed Forces of Ukraine, Valery Zaluzny, begin to "nightmare Moscow" for what has been happening to the Ukrainian capital for more than 15 months. Today, May 30, early in the morning, a massive attack by Ukrainian drones was carried out on Moscow and the Moscow region.
The governor of the Moscow region, Andrey Vorobyov, informed the public that the sounds of explosions that residents of the Russian region could hear are the work of air defense.
On approaching Moscow, several drones were shot down. I ask the people to remain calm. All emergency services are working. We will inform
the governor said.
In turn, Moscow Mayor Sergei Sobyanin said that as a result of the UAV attack, several buildings in the Russian capital received minor damage.
All emergency services of the city are at the scene of incidents. They find out the circumstances of what happened. So far, no one has been seriously injured.
the mayor said.
According to the Telegram channel Shot, air defense systems shot down 13 UAVs in the Moscow region (Rublyovka, Krasnogorsk and Istra districts), as well as over New Moscow. 3 UAVs hit residential buildings: on Leninsky Prospekt, as well as on Profsoyuznaya and Atlasova streets. 4 UAVs fell in the Odintsovo district, catching on trees, they flew at a distance of 500 meters from each other at an altitude of about 60 meters.
Among the UAVs, a new model was noticed, which was not previously used by the Armed Forces of Ukraine. The device is made according to the "duck" aerodynamic scheme, it has a gasoline internal combustion engine and is equipped with KZ-6 shaped charges.
So, on Leninsky Prospekt, an UAV (according to preliminary data, it carried 3 KZ-6 shaped charges) hit an apartment on the 14th floor of a 30-story building. The charge did not detonate. 300 people were evacuated from the house, they will be placed in the nearest school. Emergency services and sappers are on the scene.
A similar charge with pieces of a UAV was found in an apartment on Profsoyuznaya Street. Below is a video from Atlasov Street (UAV strike near the 25th floor).
Eyewitnesses from Leninsky Prospekt report "a sound like a motorcycle, two claps, the smell of kerosene."
The Russian Defense Ministry has confirmed that the Kiev regime has committed another terrorist act using UAVs. 8 aircraft-type UAVs were involved in the attack on Moscow - all were shot down (intercepted): 3 were suppressed by electronic warfare, and 5 were hit by the Pantsir-S air defense system in the Moscow region.