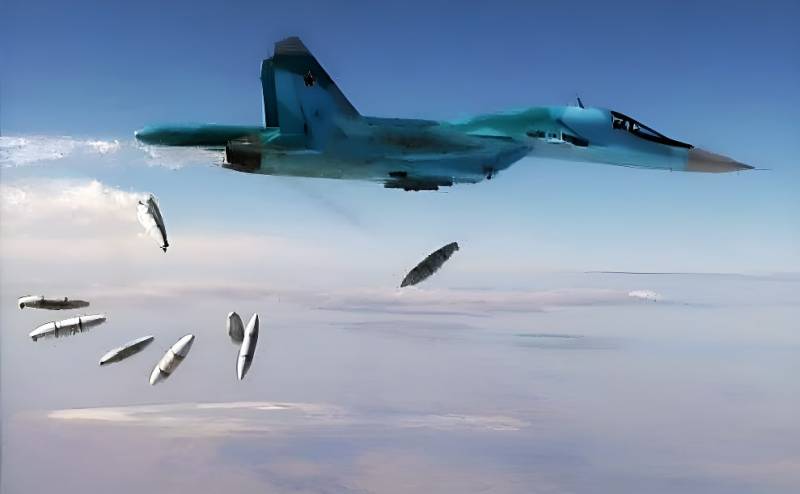 Pilots of Russian Su-34 fighter-bombers destroyed groups of Ukrainian terrorists in the Belgorod region. The video of the defeat of the militants' places of deployment is gaining views on the Internet.
In the video, a Su-34 unit strikes with free-falling bombs at the saboteurs of the Armed Forces of Ukraine on the territory of the Grayvoron checkpoint.
The terrorist attack on the territory of the Belgorod region began on May 22. The militants fired at the border checkpoint, the Russian military unit and the village of Kozinka, where armored vehicles and infantry of the Armed Forces of Ukraine later entered. Russian troops carried out a successful cleansing of the territories occupied by the militants.
The Investigative Committee of the Russian Federation opened a criminal case on the fact of what happened in the Belgorod region. The Kremlin noted that Kyiv, initiating an attack on peaceful settlements of the Russian Federation, is trying to divert attention from the Artyomovsk direction and the defeat of the Armed Forces of Ukraine in this city.
Meanwhile, on May 26, Ukrainian armed formations attacked the Kalininsky district of Donetsk with MLRS missiles. According to preliminary data, the Armed Forces of Ukraine used HIMARS complexes. One of the missiles was shot down by Russian air defense systems. Donetsk mayor Aleksey Kulemzin said that enemy ammunition hit the research institute building near the Pokrovsky market. One person died.