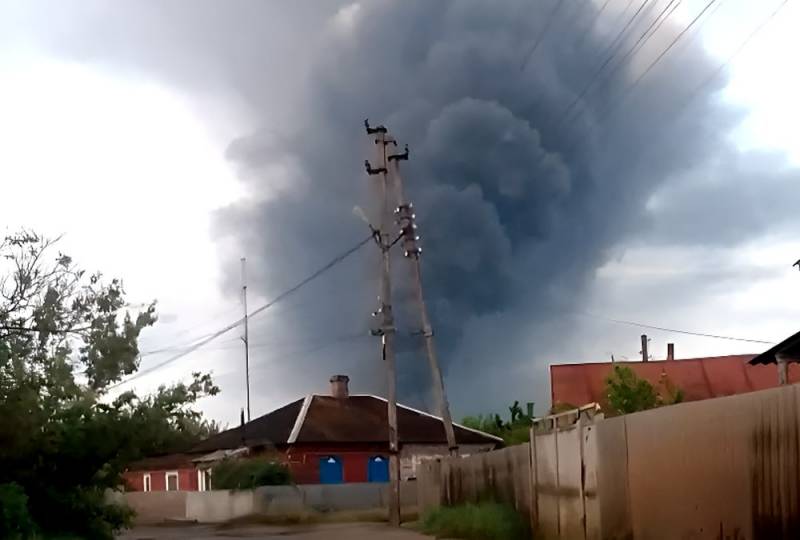 Last night, the air raid alert again sounded throughout Ukraine. The Russian army launched a traditional combined night attack on military targets using Geran-2 strike UAVs and missiles.
Despite the ban on filming the arrivals of Russian missiles and "air defense work", fire footage at some of the affected facilities hit the Web. In particular, the blow was delivered to the Utkovsky oil refinery in the village of Merefa on the southwestern outskirts of Kharkov.
The fact that the fire at the enterprise arose as a result of the arrival of "Geranium" was confirmed by the head of the Kharkiv OVA Oleg Sinegubov, in fact refuting the previous statements of official propaganda that all "Geraniums" and missiles were shot down by Ukrainian air defense.
Strong explosions were also heard in Dnepropetrovsk. Local information resources reported on powerful strikes in the area of ​​the Yuzhmash enterprise, after which the sky lit up with the glow of a fire. At about 4:XNUMX an arrival was recorded on the outskirts of Kyiv. The object hit was not reported, but residents write that the sound of the explosion was heard in the city center.
Russian missiles and UAVs have also reached the western regions of Ukraine. Designated targets were hit in Lvov, Ivano-Frankivsk and Chernivtsi. "Geraniums" were also seen in the Kirovograd, Cherkasy and Kryvyi Rih regions.