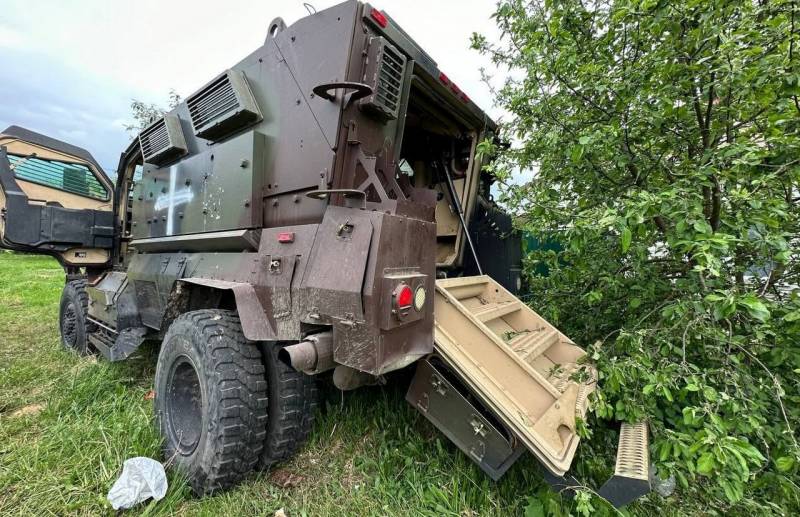 American
technique
showed itself not in the best way during the raid of the enemy DRG in the Belgorod region. Footage of the evacuation of one of the MRAP MaxxPro deep into Ukrainian territory appeared on the Web. Overseas equipment once again failed to overcome the Ukrainian impassability.
In general, despite the victorious publications in the pro-Ukrainian information resources, the militants' raid on the Russian border villages was a failure. The RF Armed Forces destroyed 5 armored vehicles - HMMWV, Dzik-2 and KrAZ "Cobra". In addition, Russian troops received 2 heavy American MaxxPro armored vehicles as trophies. As can be seen in the published footage, the militants managed to save the same car with the help of a Soviet tank.
Recall that an enemy DRG of up to 90 people on several armored vehicles
broke through
to the Graivoronsky district of the Belgorod region on May 22. The work to neutralize the militants and clean up the Russian territory took more than a day. As a result, over 70 terrorists were killed.
At the moment, work is underway to restore power supply in the attacked villages, law enforcement officers are patrolling the territory in search of mines and hidden militants.
According to the governor of the region Vyacheslav Gladkov, as a result of the terrorist actions of the enemy, 13 civilians were injured, 9 of which were in hospitals. 550 people have been evacuated and are in temporary accommodation.