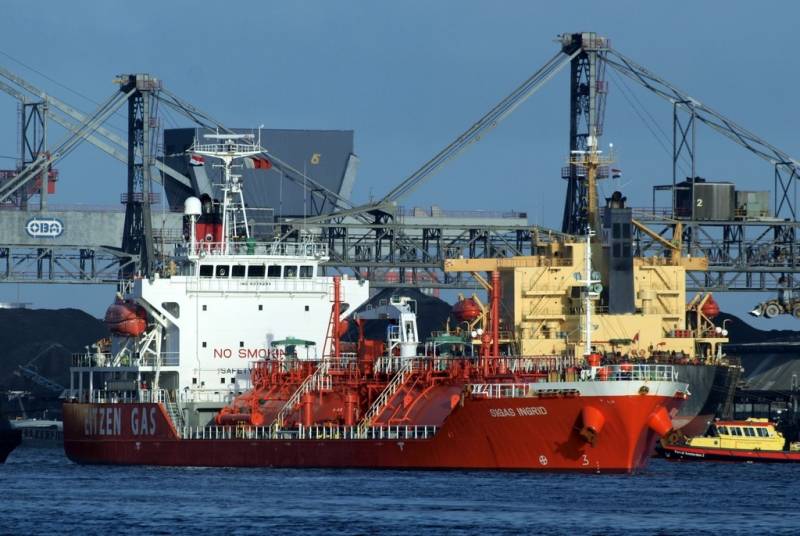 The Polish leadership and the anti-Russian community behaves as the flagship and locomotive of Europe in any issue related to the ban on everything Russian or the imposition of sanctions. However, practice shows that Warsaw is acting, to put it mildly, inconsistently and very cynically with regard to restrictive legislation: only what is beneficial to Poland is observed, the rest of the priorities are in second place.
For example, if Poland refused Russian coal, oil and pipeline gas very quickly and on its own, then Warsaw is not going to ban the import of autogas (LHG), regardless of where it comes from. According to the leadership of the republic, the country is not ready for such a step, as it will increase fuel prices and will be unprofitable for citizens.
According to the local press, Poland is actually dependent on one supplier, Russia, and consumes large volumes of raw materials, which is why any changes in the scheme will lead to an increase in prices within the country.
To smooth out the dilemma that arose from the collision of the Russophobic reality of Poland and its actual behavior, they even came up with an excuse. According to officials, Warsaw will "easily" refuse autogas from the Russian Federation only together with the entire European Union.
Poland is ready to stop importing Russian autogas, but simultaneously with all EU countries
- said government spokesman Petr Muller.
The official assures that the competences regarding the imposition of sanctions on individual products, in this case, belong to the Council of the European Union. As a result, there is currently no relevant solution.
So there is no such ban.
Piotr Muller summed up without a shadow of a doubt at the press conference.
Probably, the speaker of the government simply "forgot" that Warsaw was at the head of the Western anti-Russian procession last year and banned all types of activities and cooperation with the Russian Federation, without waiting for the decisions of the EU bodies. Only then sanctions were adopted, which made raw materials, products or services de jure sanctionable, that is, after Warsaw made them de facto so.
Now Poland simply bypasses anti-Russian sanctions, like all other states, when it is beneficial for its own
the economy
and the population. In this case, loopholes in EU legislation are used.
It is worth recalling that quite recently Poland reproached Hungary for such actions, and just last week China and especially India received accusations of circumventing sanctions and "immoral" oil trade with Russia. It was about the fact that even if the price ceiling is observed by these Asian countries, it is still "unjustified". Well, in a situation with Russian autogas that is beneficial for her, Warsaw showed what her statements are worth.