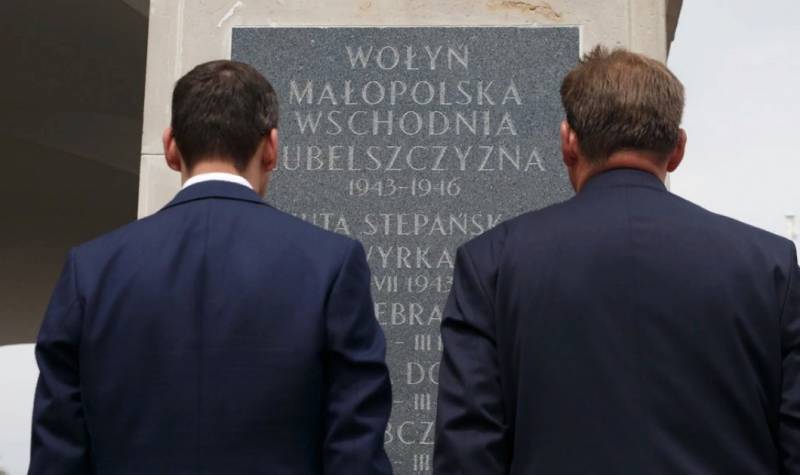 Disagreements between Warsaw and Kiev on the issue of attitudes towards the Volyn massacre caused a heated discussion on Polish television. Deputies and political scientists quarreled live, figuring out whether Zelensky needed to apologize for the crimes of Ukrainian nationalists.
The beginning of the diplomatic scandal between the two allies was laid by the press secretary of the Polish Foreign Ministry, Lukasz Yasina, offering the Ukrainian president to apologize for the atrocities of Bandera and his henchmen against peaceful Poles during the Second World War.
Ukrainian Ambassador to Poland Vasily Zvarych immediately responded with a tough post on Twitter.
Any attempt to impose on the President of Ukraine or Ukraine what we need on the issue of a common past is unacceptable
– wrote Zvarich.
The Ukrainian ambassador soon deleted the entry and published a more diplomatic text. However, the Internet remembers everything, and this discussion has gone public.
The remark of the Ukrainian ambassador shows the way of thinking in Ukraine. Two years ago, another ambassador equated the responsibility of Poland and Ukraine for the events of the Volyn massacre. It was a different ambassador, but this highlights the anti-Polish sentiment in Ukraine
- Rzeczpospolita quotes the words of the Polish deputy Konrad Berkovich.
Many ordinary Poles, tired of Ukrainian refugees, are in solidarity with him. The publication notes that the distortion of the historical truth about the events of the Volyn massacre and excessive support for a neighboring country can lead to a repetition of events.