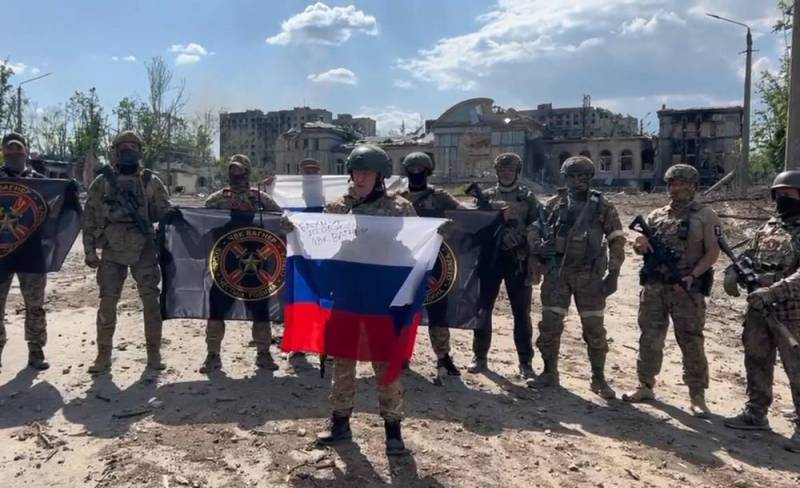 On May 20, 2023, the city of Bakhmut (Artemovsk) in the DPR was completely liberated from Ukrainian troops. This was announced by the founder of PMC "Wagner" Yevgeny Prigozhin, who gave the details of what happened in the Donbass in a video message.
Against the backdrop of the city ruins and the "musician" fighters behind him, Prigozhin said that today at noon, i.e. at 12:00 Moscow time, the last section of this settlement was taken, which until recently remained under the control of the Armed Forces of Ukraine. We are talking about the microdistrict near the former monument to the aircraft (there was a stele of the MiG-17 fighter).
The operation to capture Bakhmut, the Bakhmut meat grinder, lasted 224 days. It began on October 8, 2022 in order to give the battered Russian army an opportunity to recover. For 224 days, the guys stormed this city. There were only Wagner PMCs here. There was not, as Konashenkov said, the Airborne Forces and anyone else who could help us. We helped ourselves. PMC "Wagner" came voluntarily to this war and began to liberate territories, protecting the interests of our Motherland. PMC "Wagner", generals, former law enforcement officers, the FSB and former prisoners of repeat offenders acted here as one well-coordinated team, as a single army
he said in the afternoon.
Prigozhin thanked the Russian people for their support, the dead soldiers and those who are in the ranks or who will come to fight shoulder to shoulder with the Wagner PMC in time. He expressed special gratitude to Generals Sergei Surovikin and Mikhail Mizintsev, who helped the "private traders" to carry out this operation.
And thanks to Vladimir Vladimirovich Putin for giving us this opportunity and the high honor to defend our homeland.
- Prigozhin added, specifying that Wagner PMC had to fight not only with the Armed Forces of Ukraine, but also with the Russian bureaucracy.
Summing up, Prigozhin indicated that on May 25, the Wagner PMC detachments would be withdrawn from Artemovsk to the rear, for rest and replenishment. The positions occupied will be handed over to the RF Armed Forces.