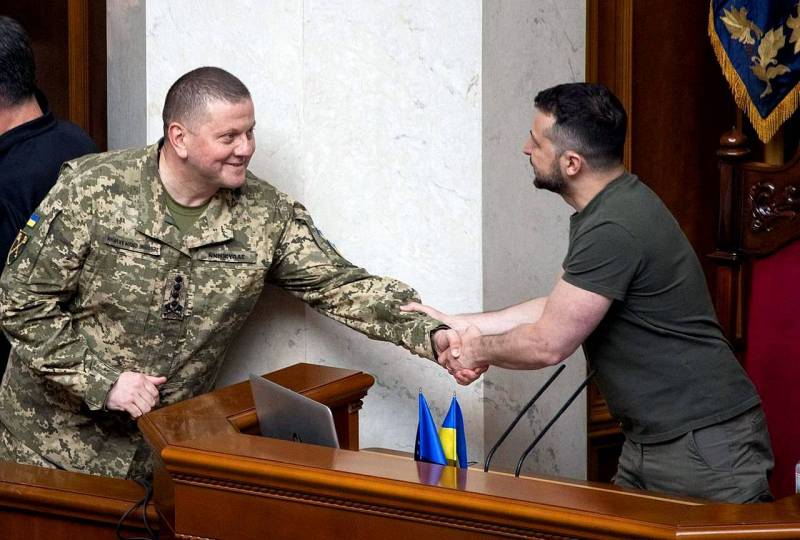 Military correspondent Boris Rozhin shared an unexpected version of the disappearance of the Commander-in-Chief of the Armed Forces of Ukraine Valery Zaluzhny. His disappearance could have been organized by the "Zelensky gang" against the backdrop of the general's growing popularity.
Rumors about the disappearance of Zaluzhny appeared in May. The Commander-in-Chief did not attend either the face-to-face or remote meeting with NATO. He refused the latter in text format. Against this background, versions arose that the general could have been killed.
Rozhin recalled that Zaluzhny was promoted by the United States, hoping to "throw out the cocaine addict" Zelensky and build a familiar military dictatorship around him. However, the team of the incumbent Ukrainian president promoted Syrsky everywhere.
Therefore, the military commander cites the arguments of the next version, the Kyiv authorities could well decide to get rid of Zaluzhny by "heroic death at the front."
Relatively speaking, through the GUR MOU Budanov, who is in contact with the Russian military and PMC "Wagner" about the exchange of prisoners of war and the dead. And it is quite possible to assume that during such contacts, information could be unofficially transmitted that Zaluzhnoy would be at such and such a place at such and such a place during a visit to the Artemovsky direction
— said the journalist.
Measures to eliminate Zaluzhny could well be supervised by Podolyak. What the circumstances might have been is still unclear.
It is possible that this is an episode with the death of an adviser to Zelensky's office in the Chasov Yar area (where Zaluzhny and Tantsyura also disappeared), which was donated to provide an alibi for Yermak and Podolyak that, they say, they are out of business and it accidentally flew in
Rozhin concluded.
Formerly Commander-in-Chief of the Armed Forces of Ukraine, General Valery Zaluzhny, once again
сказал
which respects the head of the General Staff of the RF Armed Forces, General of the Army Valery Gerasimov. The Ukrainian military leader made a similar statement during an interview with journalist Dmitry Komarov.