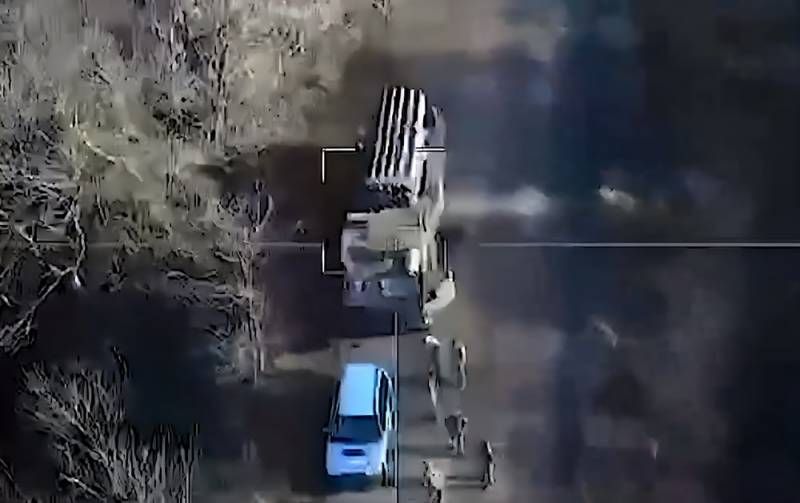 Another successful use of the Lancet loitering ammunition by the Russian military was recorded in the zone of a special military operation. This time, the Soviet MLRS "Uragan" and the Czech RM-70 of the Armed Forces of Ukraine became the victims of the kamikaze drone. Frames of destruction published on the web.
In one of the published videos, you can clearly see how the Uragan MLRS launcher, accompanied by a civilian car and several Ukrainian military personnel, stopped on the side of the road.
At that moment, the Lancet tracked her down. The attack was so swift that the Ukrainian military did not even have time to really react. Only when the Lancet ammunition hit the launcher rails did the soldiers scatter.
Most likely, the installation of the MLRS "Hurricane" was heading to the place of strike on the positions of Russian troops. In any case, it was loaded with shells. A few seconds after the Lancet hit, the installation's ammunition began to detonate.
It all ended, as expected, with a powerful explosion, as a result of which the MLRS was completely destroyed. But the personnel accompanying her, in all likelihood, managed to escape. But the Ukrainian military will now certainly celebrate this day as their second birthday.
In the second case, Russian loitering ammunition hit a Czech-made MLRS RM-70. It is noteworthy that the attack was carried out in the dark. As with the Hurricane, the multiple launch rocket launcher was loaded. As a result of the defeat by the Lancet, the RM-70 ammunition detonated, and the combat vehicle was completely destroyed.
We add that the Ukrainian military has not yet been able to find an effective means of combating Russian loitering ammunition "Lancet".