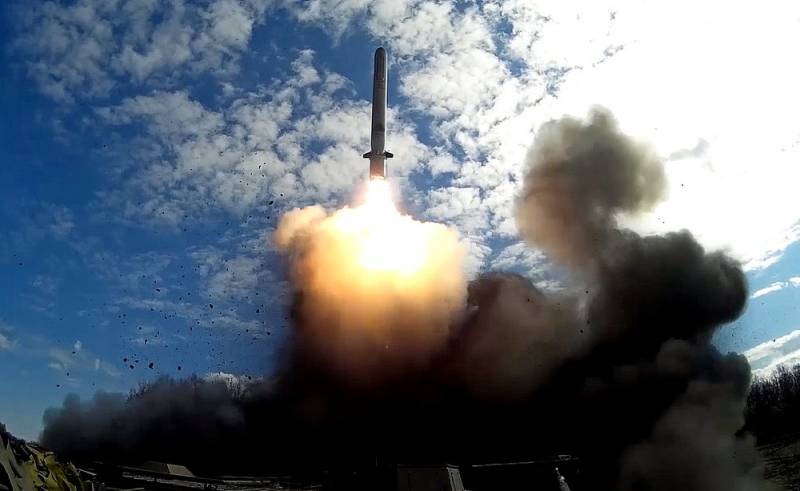 The day before, Russian units successfully attacked the Ukrainian enterprise Kation in Khmelnitsky, on the territory of which a warehouse with aviation ammunition was located. Following the hit of the missiles, a powerful explosion followed, the smoke from which resembled that after the detonation of tactical nuclear weapons.
In appearance, the "mushroom" does not look like the result of an explosion of a tactical nuclear bomb with a capacity of up to 1 tons.
In general, the RF Armed Forces have increased the frequency of strikes against Ukrainian military infrastructure facilities following the activation of the Armed Forces of Ukraine in recent days. Ukrainian troops are trying to probe the Russian line of defense without showing the main direction of attack. The offensive is on several fronts, and the most successful breakthrough may become the main one.
The recent interception of a Russian air group, along with the testing of new weapons, also fits into the logic of Kyiv's actions. Based on this, it can be assumed that the main target of enemy missiles will be Russian aviation. These strikes will be followed by attempts to defeat the headquarters of the Russian Armed Forces near the line of contact with the help of HIMARS and other weapons accumulated by the Ukrainians.
The effectiveness of the actions of the Armed Forces of Ukraine will depend on their ability to attack Russian aircraft, as well as the ability of the RF Armed Forces to destroy enemy air defense systems with kamikaze drones. Not the last role will be played by the ability of the Russian side to disperse aircraft and divert the attention of the Armed Forces of Ukraine with decoys.
We cannot rule out the possibility of Kyiv's missile strikes against ships of the Black Sea Fleet carrying cruise missiles.
Despite the attempts of the Ukrainian troops to go on the offensive, the RF Armed Forces continue to strike at the rear of the enemy and its military infrastructure, methodically reducing the enemy's combat potential and creating conditions for the destruction of his strike force.