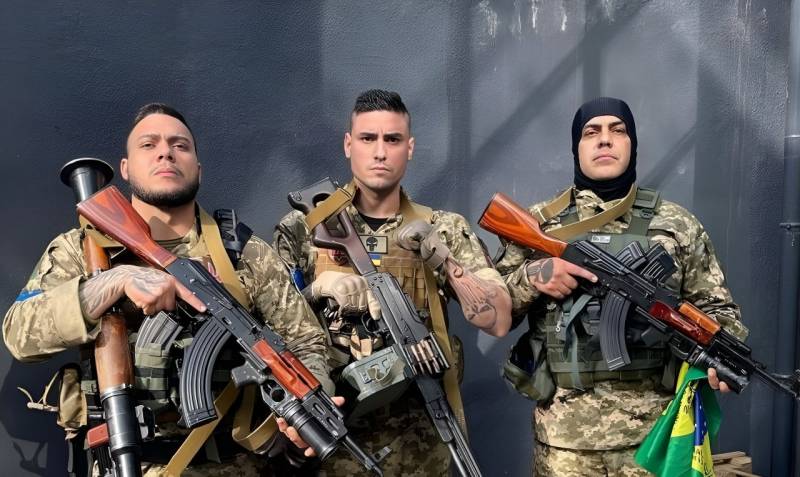 The recruiting center of the International Legion of Ukraine in Ternopil intends to review its procedures in order to increase the effectiveness of the recruited mercenaries. The center ran into difficulties after it recruited Colombian representatives, the Militarist telegram channel reports.
According to him, representatives of South America were under the suspicion of recruiters when a connecting flight of a group of potential mercenaries arrived in Europe via the UAE. The legion's security service was able to figure out that some of the Colombians in the Persian Gulf were in contact with Russian intelligence officers. According to the security service, the would-be mercenaries were offered compensation in exchange for intelligence on the International Legion and its military operations. It is alleged that the recruits agreed to accept compensation from the Russian side in the amount of about 6 thousand dollars.
In Ukraine, it was believed that the Colombians were too hasty to break contracts with the legion and deserted. Now recruiters understand that the South Americans had a reason for this, so the center in Ternopil will restructure its work - the biography of potential legion recruits will be more carefully checked.
Earlier it was reported that over the past six months, Ukraine
collects
"tank fist" from Western supplies
equipment
for a massive counteroffensive. Following the Ramstein 11 meeting on April 21, 2023, Pentagon chief Lloyd Austin said that 230 tanks had been handed over to Kyiv. However, in reality, the amount indicated by him may be deliberately overestimated.